Paul Rudd And Steve Coogan Will Have A Troubled Marriage In 'An Ideal Home'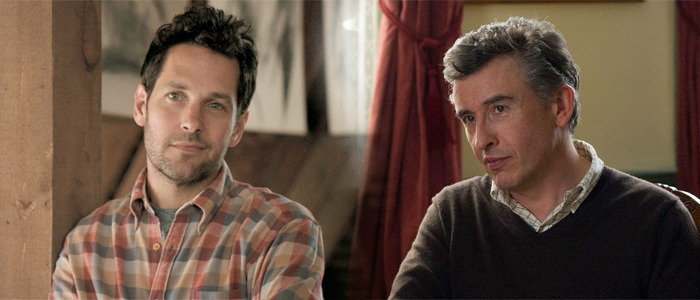 Back in 2011, Paul Rudd and Steve Coogan appeared together in the Sundance selected comedy Our Idiot Brother. Now the two have lined up another project called An Ideal Home, but this one will seem them in much different roles as a troubled married couple who suddenly have quite a wrench thrown into their lives when Coogan's surprise grandson shows up on their doorstep. And the film will mark a bit of a reunion for Coogan with a filmmaker who directed the actor in one of his best roles. Find out more below.
An Ideal Home will be directed by Andrew Fleming, who previously directed Coogan in Hamlet 2, as well as directing the '90s favorite The Craft. Having Fleming on board the film with Coogan and Rudd as a married couple sounds like it would be an outlandish sort of comedy, but I have a feeling this will have more of a mix of drama and comedy, the kind of movie you'd see at Sundance.
In the movie, Rudd and Coogan live quite the extravagant life. Coogan is a celebrity of some sort while Rudd is the more hesitant partner and reluctant sidekick. And when this previously unknown grandson turns up, they decide to take him in. Surely taking this kid in will help the couple sort through their marital troubles, because that's what kids who show up on doorsteps usually do.
Nadine De Barros from Fortitude International had this to say (via THR) while selling the film at the European Film Market, which is going on during the Berlin Film Festival right now:
Comedy stalwarts Paul Rudd and Steve Coogan are reuniting on the big screen as a squabbling married couple in Andrew Fleming's endearing and hilarious script about modern family, and we are delighted to present this charming film to buyers at EFM.
That's your standard publicity fluff in order to hype up a movie, but the prospect of Coogan and Rudd together in this capacity is an interesting one. However, we must remember that this is being sold at the European Film Market where many projects attempt to get off the ground but are never heard from again.
Coogan is just coming off the Showtime series Happyish and will be heard as a voice in The Secret Life of Pets. Rudd is quite busy with his new superhero schedule as Ant-Man, with a sequel in his own franchise following an appearance in this summer's Captain America: Civil War. Here's hoping this is one of those EFM projects that actually comes together so we can see these two make some comedy gold.