'Sing' Trailer: It's Like If 'Zootopia' Was About 'American Idol'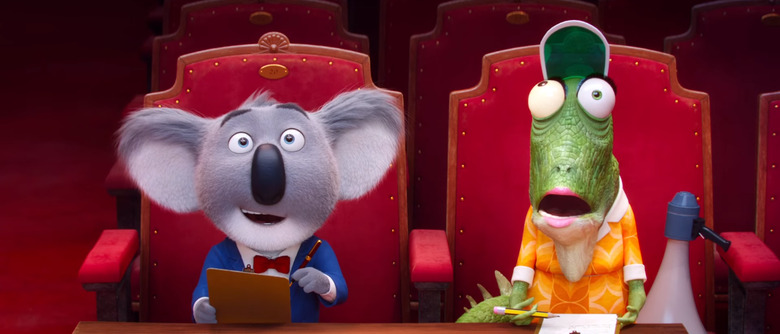 In just a few weeks, Disney's Zootopia will whisk us off to a land that's at once familiar and strange, that imagines our everyday universe as it might look if it had been designed, built, and populated entirely by animals. As of now, that's the only trip there that Disney is offering — there are no plans yet for a Zootopia 2. But if you're eager to immerse yourself in another animal kingdom, Illumination Entertainment's got you covered with Sing.
Like Zootopia, Sing takes place in a world inhabited entirely by animals. Unlike Zootopia, Sing follows an American Idol-style competition organized by koala voiced by Matthew McConaughey. And the Oscar winner is just one of several high-profile cast members involved; the contestants include all manner of critters voiced by Reese Witherspoon, Scarlett Johansson, Taron Egerton, Seth MacFarlane, Tori Kelly, and the like. Watch the new Sing trailer after the jump. 
I'll admit: I have a knee-jerk dislike of animated creatures covering outdated pop songs. Clearly, then, I am not the target audience for this. But if you're the kind of person who claps with delight at the sight of three cartoon bunnies shaking their tails to Nicki Minaj's "Anaconda," then you could do a lot worse than Sing. The animation is slick and the cast is impeccable. And the official synopsis promises "more than 85 hit songs," so Lady Gaga and Seal are just the tip of the iceberg.
Sing opens December 21.
Illumination has captivated audiences all over the world with the beloved hits Despicable Me, Dr. Seuss' The Lorax, Despicable Me 2 and Minions, now the second-highest-grossing animated movie in history. Following the release of The Secret Life of Pets in summer 2016, Illumination presents Sing at the holidays. Matthew McConaughey, Reese Witherspoon, Seth MacFarlane, Scarlett Johansson, John C. Reilly, Taron Egerton and Tori Kelly star in a musical comedy about finding the shining star that lives inside all of us.
Set in a world like ours but entirely inhabited by animals, Sing stars Buster Moon (Academy Award® winner Matthew McConaughey), a dapper Koala who presides over a once-grand theater that has fallen on hard times. Buster is an eternal optimist—okay, maybe a bit of a scoundrel—who loves his theater above all and will do anything to preserve it. Now facing the crumbling of his life's ambition, he has one final chance to restore his fading jewel to its former glory by producing the world's greatest singing competition.
Five lead contestants emerge: A mouse (Seth MacFarlane) who croons as smoothly as he cons, a timid teenage elephant (Tori Kelly) with an enormous case of stage fright, an overtaxed mother (Academy Award® winner Reese Witherspoon) run ragged tending a litter of 25 piglets, a young gangster gorilla (Taron Egerton) looking to break free of his family's felonies, and a punk-rock porcupine (Scarlett Johansson) struggling to shed her arrogant boyfriend and go solo. Each animal arrives under Buster's marquee believing that this is their shot to change the course of their life.
Featuring more than 85 hit songs, Sing is written and directed by Garth Jennings (Son of Rambow, The Hitchhiker's Guide to the Galaxy) and produced by Chris Meledandri and Janet Healy. Sing will be released by Universal Pictures.