'Star Wars: Episode VIII' Announcement Teaser Is All About Luke; Benicio Del Toro And Laura Dern Join Cast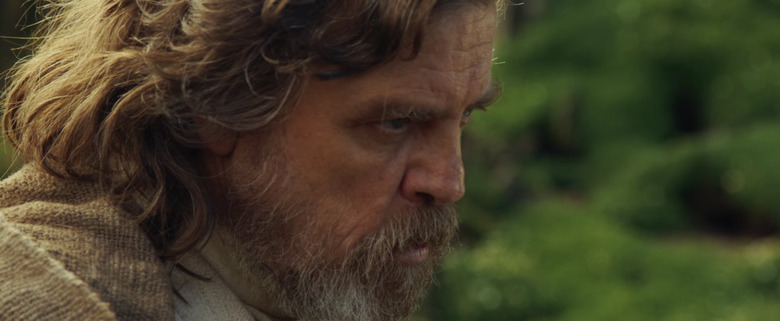 Concrete details on Star Wars: Episode VIII have been hard to come by, and in their absence tons of rumor and speculation has sprung up about the next chapter in the sci-fi saga. But now, at long last, it looks like we'll be getting some real information.
Cameras are officially rolling on Star Wars: Episode VIII under director Rian Johnson, and to celebrate that fact Disney has released the very first Star Wars: Episode VIII production teaser. In addition to that, they've also unveiled the official cast list, revealing that Laura Dern and Benicio Del Toro will be jetting off into the galaxy far, far away. 
After Star Wars: The Force Awakens made us wait until the very final minutes to get even a glimpse of Luke Skywalker, Star Wars: Episode VIII goes ahead and opens with him. It's not much, but it's nice to see his familiar face again.
And speaking of familiar faces, here's the Star Wars Episode VIII cast announcement:
Rey took her first steps into a larger world in Star Wars: The Force Awakens and will continue her epic journey with Finn, Poe, and Luke Skywalker in the next chapter of the continuing Star Wars saga, Star Wars: Episode VIII, which began principal photography at Pinewood Studios in London on February 15, 2016.
Star Wars: Episode VIII, which is written and directed by Rian Johnson and continues the storylines introduced in Star Wars: The Force Awakens, welcomes back cast members Mark Hamill, Carrie Fisher, Adam Driver, Daisy Ridley, John Boyega, Oscar Isaac, Lupita Nyong'o, Domhnall Gleeson, Anthony Daniels, Gwendoline Christie, and Andy Serkis. New cast members will include Academy Award winner Benicio Del Toro, Academy Award nominee Laura Dern, and talented newcomer Kelly Marie Tran.
Star Wars: Episode VIII is produced by Kathleen Kennedy and Ram Bergman and executive produced by J.J. Abrams, Jason McGatlin, and Tom Karnowski. Joining the production crew will be some of the industry's top talent, including Steve Yedlin (Director of Photography), Bob Ducsay (Editor), Rick Heinrichs (Production Designer), Peter Swords King (Hair and Make-Up Designer), and Mary Vernieu (US Casting Director). They will be joining returning crew members Pippa Anderson (Co-Producer, VP Post Production), Neal Scanlan (Creature & Droid FX Creative Supervisor), Michael Kaplan (Costume Designer), Jamie Wilkinson (Prop Master), Chris Corbould (SFX Supervisor), Rob Inch (Stunt Coordinator), Ben Morris (VFX Supervisor), and Nina Gold (UK Casting Director).
No surprise Harrison Ford isn't returning, but it's interesting to see that Peter Mayhew nor Max von Sydow are included in this cast announcement. And after all the rumors about which hot young actress could win a coveted new role (Tatiana Maslany, Gina Rodriguez, Gugu Mbatha-Raw, and Olivia Cooke were supposedly being eyed), it looks like newcomer Kelly Marie Tran may have beat them all out. Of course, it's early days yet and it's quite possible more cast members will be revealed in the coming days, weeks, and months — remember, it wasn't until the second wave of announcements that Christie and Nyong'o were also reported to be part of the cast.
Star Wars: Episode VIII opens December 15, 2017.