Hannibal Buress Joining Dwayne Johnson In 'Baywatch'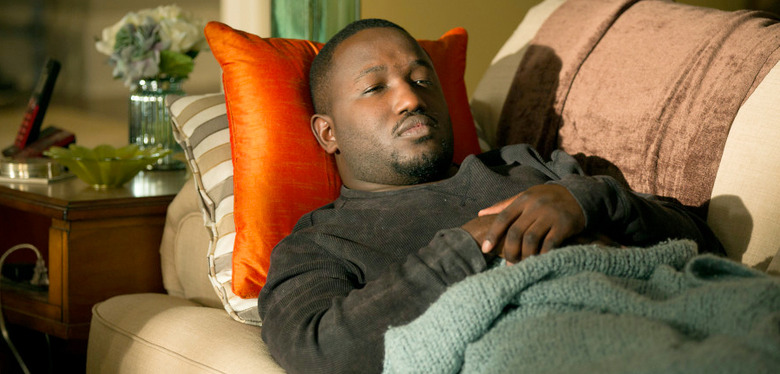 Comedian Hannibal Buress is really starting to build a promising feature film career. After appearing in Neighbors, as well as this summer's sequel, and Daddy's Home last year, the stand-up comedian has landed another role in a big studio comedy.
Paramount Pictures is currently in talks to join the cast of the Baywatch movie, starring Dwayne Johnson and Zac Efron. To find out who Buress is playing in this comedic take on the popular 90s TV series, hit the jump.
As of now, details on the plot are mostly under wraps. All we know so far is that Dwayne Johnson is playing Mitch (David Hasselhoff's character from the original series), and he must team up with Zac Efron, a polar-opposite character, to save their beach. Alexandra Daddario has also been cast as Summer (played by Nicole Eggert in the original series).
As for Hannibal Buress joining Baywatch, Variety reveals he won't be part of the lifeguard squad, but he'll be adding laughs in the form of one of the locals in the bay community. Hopefully there will be plenty of characters played by comedic talent like this to keep the laughs coming.
The comedian has been making plenty of waves lately. In addition to the aforementioned film roles, Buress also got his own show on Comedy Central called Why? With Hannibal Buress, and he has a great recurring role as Lincoln Rice on the same network's hit show Broad City. In addition, to booking a role in James Franco's The Disaster Artist, you'll also hear his voice a couple times this year in The Secret Life of Pets and The Angry Birds Movie.
The rest of the Baywatch cast includes Priyanka Chopra and Ilfenesh Hadera along with Sports Illustrated model Kelly Rohrbach taking the role of CJ Parker, the character played by Pamela Anderson in the original series.
King of Kong and Horrible Bosses director Seth Gordon will be at the helm of the comedy which has a recent draft from Damian Shannon and Mark Swift, the duo behind the 2009 reboot of Friday the 13th and Freddy vs Jason. I'm hoping that they're going to deliver something akin to 21 Jump Street, but that's a pretty tall order. Hopefully we'll learn more about this one soon, but for now, I like the talent on board the project enough to stay at least somewhat interested for the time being.