'The Darkness' Trailer: Kevin Bacon Must Save His Family From Evil Dirty Handprints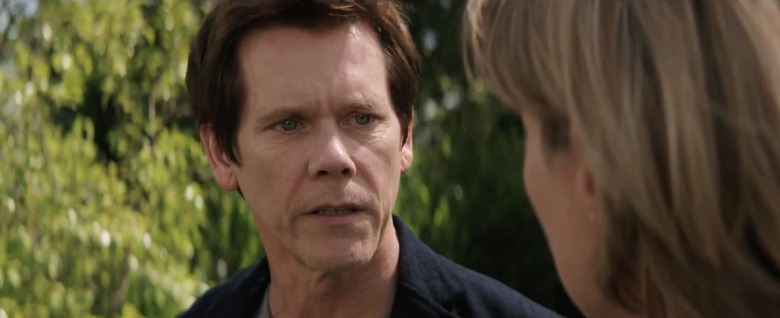 Blumhouse Picture has a notable track record of casting their horror projects right. They don't always work out, but even just looking at that The Purge: Election Year trailer from the other day, the production company really struck gold in Frank Grillo. The actor was a big reason why The Purge sequel was a vast improvement over its predecessor. And for Blumhouse's latest picture, The Darkness, who better to cast than Kevin Bacon to ground your supernatural horror movie?
Get a taste of what's in store from Blumhouse this time with The Darkness trailer below.
Here's The Darkness trailer, which premiered on Fandango:
Bacon isn't technically fighting dirty hand prints in Greg McLean's (Wolf Creek) film. In The Darkness, after a family's delightful trip to the Grand Canyon, they start to get terrorized by a supernatural force, and it seems to have a lot to do with the son of the family, Mikey. The moral of this set up: do not take your family to the Grand Canyon.
It would be wrong to say Blumhouse makes "cheap" movies; they're just very mindful of the money they do spend. Producer Jason Blum and all involved in the company have a low-risk, high-reward approach. If one of their movies doesn't connect with audiences, there's no $100 million dollar writedown after opening weekend.
Based on this trailer for The Darkness, though, it looks considerably polished. That opening shot of the Grand Canyon isn't a camera move you see in too many low-budget horror movies. Most of the movie does seem to take place in one location, like a few other Blumhouse titles, but this house is different; Kevin Bacon and Radha Mitchell occupy it. If the scares aren't there in the movie, then at least there will be two damn fine actors present.
Here's the official synopsis:
From the director of the cult classic, WOLF CREEK, Greg McLean, comes the supernatural thriller THE DARKNESS, opening nationwide May 13th, 2016. As a family returns home from vacation at the Grand Canyon, they innocently bring home a supernatural force that preys off their own fears and vulnerabilities, threatening to destroy them from within, while consuming their lives with terrifying consequences.
THE DARKNESS stars Kevin Bacon, Radha Mitchell, David Mazouz, Lucy Fry, Matt Walsh and Jennifer Morrison. Directed by Greg McLean and written by McLean, Shayne Armstrong and S.P. Krause, the film was produced by Jason Blum, Bianca Martino and Matt Kaplan. The film will be released by BH Tilt in coordination with High Top Releasing.
The Darkness opens in theaters May 13th, 2015.