'Steve Jobs' Featurette: Jeff Daniels Explains The Unresolved Bromance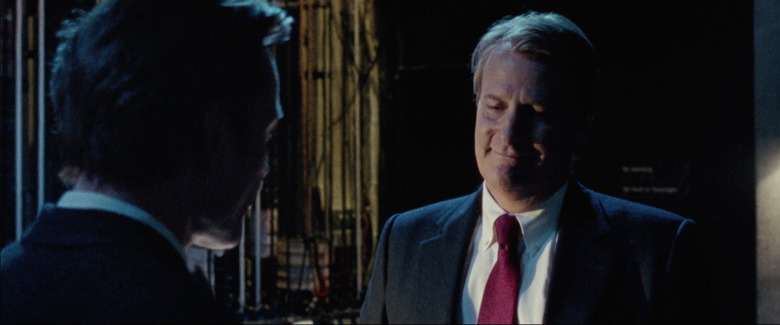 We're big fans of Steve Jobs at the site. Director Danny Boyle's (Slumdog Millionaire) unconventional biopic was no. 5 on our top 15 of 2015, and for good reason. The breathlessly paced, intricately structured, and impeccably acted drama avoided so many pitfalls that plague modern bio films.
Steve Jobs didn't leave much of a dent at the box-office, but no matter, the film is coming to Blu-Ray, meaning more people will discover screenwriter Aaron Sorkin's drama soon.
To celebrate the Blu-Ray release, watch a Steve Jobs featurette below.
Steve Jobs, for the most part, was overlooked by the Academy. Of course if anyone was going to be nominated for the film, you'd think it'd be awards darling Aaron Sorkin, but even his script didn't get any recognition. Ultimately, only Michael Fassbender and Kate Winslet were nominated for their performances. Another snub for Steve Jobs? Jeff Daniels. The second act standoff between Jobs and John Scully (Daniels) is more intense than most set pieces. It's just so charged with emotion and regret.
In this Steve Jobs featurette, Daniels touches on that regret and Jobs and Scully's relationship:
You get a sense of everything Daniels says in the film itself. Jobs and Scully's "bromance" is quite clear in the first act, seeing two men that clearly respect and like each other. When the breakup happens, there are personal stakes involved — it's not just Jobs losing his company.
Here is the official synopsis for the Steve Jobs:
Set backstage at three iconic product launches and ending in 1998 with the unveiling of the iMac, Steve Jobs takes us behind the scenes of the digital revolution to paint an intimate portrait of the brilliant man at its epicenter. Steve Jobs is directed by Academy Award® winner Danny Boyle and written by Academy Award® winner Aaron Sorkin, working from Walter Isaacson's best-selling biography of the Apple founder. The producers are Mark Gordon, Guymon Casady of Film 360, Scott Rudin and Academy Award® winner Christian Colson. Michael Fassbender plays Steve Jobs, the pioneering founder of Apple, with Academy Award®-winning actress Kate Winslet starring as Joanna Hoffman, former marketing chief of Macintosh. Steve Wozniak, who co-founded Apple, is played by Seth Rogen, and Jeff Daniels stars as former Apple CEO John Sculley. The film also stars Katherine Waterston as Chrisann Brennan, Jobs' ex-girlfriend, and Michael Stuhlbarg as Andy Hertzfeld, one of the original members of the Apple Macintosh development team.
Steve Jobs is available on DVD and Blu-Ray on February 16th.