'The Night Manager' Trailer: Welcome Tom Hiddleston To The Family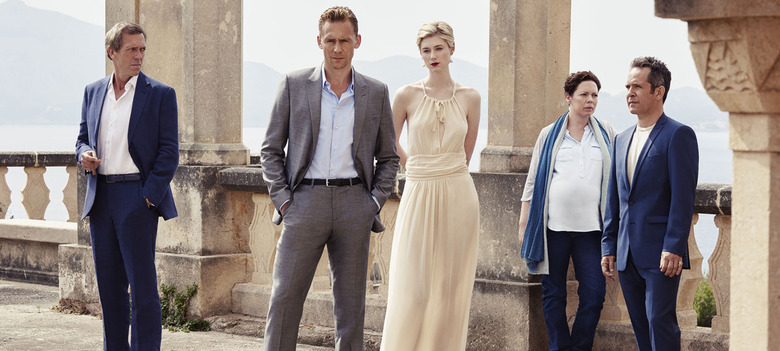 Less than a month after the first trailer for The Night Manager, we've got another look at the upcoming miniseries. The adaptation of John Le Carré's novel originally aired on the BBC, but AMC is bringing the miniseries to the States in the coming months. The Night Manager stars Tom Hiddleston, Hugh Laurie, Olivia Colman, Tom Hollander, and Elizabeth Debicki.
Watch The Night Manager trailer below.
Make sure never to mess with a nighttime manager (Hiddleston) at a hotel, because sometimes they might turn out to be a former British soldier recruited to uncover a businessman (Laurie) involved in the arms trade. That's the set up of this adaptation, which is directed by Susanne Bier (A Better World).
Here's The Night Manager trailer:
Bier directed all six episodes of the miniseries, and it's premiering at the ongoing Berlin International Film Festival. The last feature we saw from Bier was Serena, a troubled project, starring Bradley Cooper and Jennifer Lawrence, that came and went. It was an abnormal misstep from Bier, who we usually expect fine drama from.
With this cast and Le Carré's material, though, she should bounce back nicely from that film. Back in 2015, she had this to say about The Night Manager:
David Farr's elegant script perfectly orchestrates the central cat-and-mouse game between these two irresistibly flawed characters. That Hugh Laurie and Tom Hiddleston will be playing Roper and Pine, respectively, is so thrilling to me. Their shared soulfulness, precision and sharp humor will seduce us all, both through Roper's charming yet insidious manipulations and Pine's unsettlingly enigmatic struggle to do the right thing.
While the idea of watching Hiddleston and Laurie going head-to-head in a miniseries directed by Bier is indeed enticing, it's Elizabeth Debicki's presence that has got me even more intrigued by The Night Manager. She was absolutely wonderful in The Man from U.N.C.L.E., delivering a ferociously elegant performance. I'm looking forward to seeing where her career goes.
Here's the official synopsis:
The Night Manager mini-series will bring together love, loss and revenge in a complex story of modern criminality. The eagerly anticipated series follows former British soldier Jonathan Pine (Tom Hiddleston) as he navigates the shadowy recesses of Whitehall and Washington where an unholy alliance operates between the intelligence community and the secret arms trade. To infiltrate the inner circle of lethal arms dealer Richard Onslow Roper (Hugh Laurie), Pine must himself become a criminal.
The Night Manager premieres on Tuesday, April 19th at 10 PM ET/PT.