Bumblebee Is Getting His Own 'Transformers' Spinoff In 2018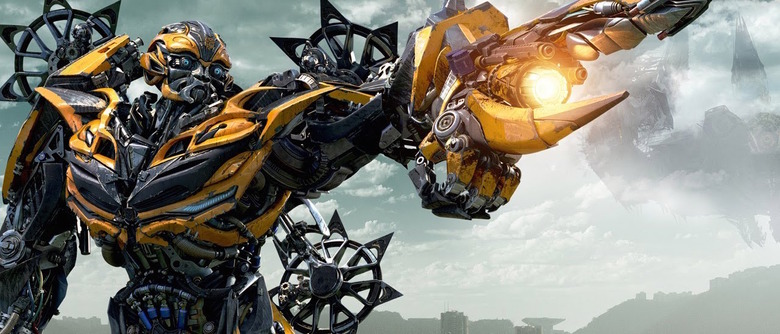 Earlier today, we reported that Paramount Pictures had set dates for Transformers 5, 6, and 7 in 2017, 2018, and 2019. Well, it turns out that wasn't exactly accurate. While it is true we're getting three more Transformers movies over the next three years, they won't all be direct sequels. One of them will be a spinoff featuring Bumblebee (that's the yellow one, for those of you who suffer from a Transformers-specific form of face blindness). 
Tom Warner, leader of the Transformers franchise at Hasbro, spilled the beans during an investor conference call for Toy Fair (via Coming Soon):
This summer we worked closely with a talented team of A-list screenwriters to map out the future of the Transformers cinematic universe, and as Brian announced earlier, things kick off in a major way in 2017 with the release of Transformers 5 in June. And we're working on a spin-off movie centered around Bumblebee for 2018 and the next chapter for 2019.
So the film we previously referred to as Transformers 6 is, in fact, a Bumblebee-centric movie. That film will hit theaters June 8, 2018, where it'll face off against Godzilla 2. It'll be one of the many projects to come out of the Transformers writers room led by Akiva Goldsman, but we don't know at this time which specific writers will be credited. No director or star has been announced.
The Bumblebee spinoff will be one of the first steps toward expanding the Transformers series into a Marvel-style shared universe. Rumors of a possible Bumblebee movie began to circulate last summer when Hasbro CEO Brian Goldner suggested, "We could see stories told around Bumblebee and other characters." Warner's comments don't come as a surprise, then, but just a confirmation of something fans have already suspected.
Bumblebee has been one of the most popular and most recognizable Autobots in the Transformers franchise. In the first-generation toy line released by Hasbro, his car form was a Volkswagen Beetle, but in the live-action movies he turns into some variant of a Chevrolet Camaro. He was Sam Witwicky's car in the first three movies, and he returned without his human BFF in 2014's Transformers: Age of Extinction.
Before we get to Bumblebee's solo adventure, though, we have Transformers 5 to look forward to. That one is being directed by Michael Bay (who claims it's his last Transformers movies — no, seriously, for real this time, you guys) and will bring back Mark Wahlberg as robotics expert and underappreciated inventor Cade Yeager. It opens June 23, 2017.