'Better Call Saul' Gets Its Own 'Talking Dead'-Style Talk Show, 'Talking Saul'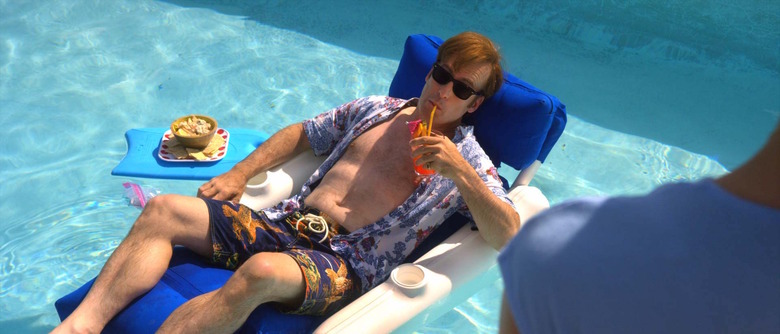 If AMC puts out a show and Chris Hardwick isn't there to talk about it with a bunch of celebrities immediately afterward, did it ever really air at all? Increasingly, the answer seems to be no. Following the success of Talking Dead and Talking Bad – Hardwick's live talk shows about The Walking Dead and Breaking Bad – AMC has announced it's launching Talking Saul. The first episode will air right after Better Call Saul's season 2 premiere on Monday. 
AMC announced Talking Saul today. So far, only two episodes are planned: one to follow the Better Call Saul season 2 premiere, and one to follow the Better Call Saul season 2 finale. Consider it a test run; if these episodes go well, we wouldn't be surprised to see Talking Saul expanded to cover every episode of Better Call Saul season 3. Assuming there is a Better Call Saul season 3, that is, which AMC has yet to confirm.
Hardwick will have Better Call Saul co-creator Vince Gilligan and star Bob Odenkirk on for Talking Saul's hourlong debut episode on Monday, February 15. They should make for a spirited episode, although given Odenkirk's hilariously bumbling recent attempt to recap season 1 on The Tonight Show With Jimmy Fallon, it's unclear how much useful insight he'll really have to offer.
Hardwick's Talking mini-empire began in 2011, as The Walking Dead entered its second season. Each episode of Talking Dead has Hardwick discussing the episode of The Walking Dead that we've just seen with a few celebrity guests — sometimes cast and crew members associated with The Walking Dead, but often just famous people who happen to be fans of the series. The shows are taped live in front of a studio audience.
In 2013, AMC launched Talking Bad, also hosted by Hardwick, to play after each episode of the second half of Breaking Bad's fifth and final season. The franchise branched out again last year, when Talking Dead aired a special episode after the season 1 finale of the Walking Dead spinoff Fear the Walking Dead. That installment did well enough that AMC has since announced Talking Dead will be on after each episode of Fear the Walking Dead season 2.
Better Call Saul season 2 will kick off Monday at 10/9c, and Talking Saul will be on at 11/10c.