'Roadies' Trailer: Cameron Crowe Returns To Rock And Roll With New Showtime Series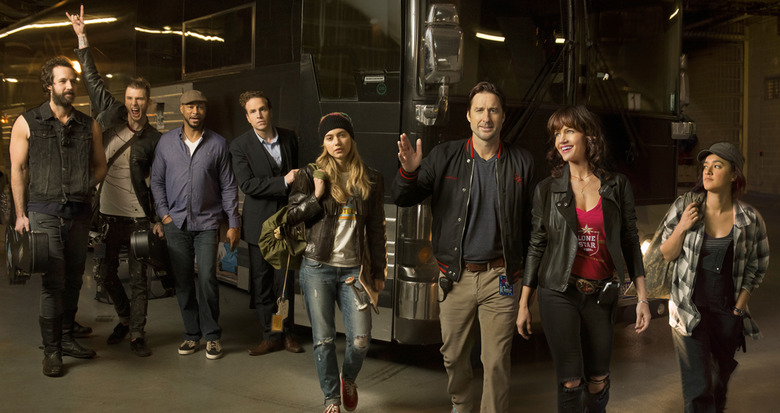 It's no secret that pretty much the entire /Film crew has undying love for Almost Famous. Maybe it's because of the similarities between covering the world of music and covering the world of film and television, or maybe it's just because it's a damn good coming-of-age tale. No matter what the reason, I love it. Therefore, I'm happy to see director Cameron Crowe's first television endeavor taking him back behind the scenes of rock and roll with a new Showtime series called Roadies.
Not unlike Almost Famous, the show follows around a fictional band, but it's the crew who gets the concerts ready that takes the spotlight. They tour around the United States, creating an unconventional family-like bond with all the good and bad that comes with living each other on the road for months at a time. Get a taste of what you can expect with the first Roadies trailer below.
The series boasts quite the cast with Luke Wilson, Carla Gugino and Imogen Poots starring in the series, the latter of whom has a much different experience in the rock world with Jeremy Saulnier's Green Room. In addition, there's also Rafe Spall (Prometheus) and Keisha Castle-Hughes (Game of Thrones) with guest appearances by the likes of Luis Guzman (Boogie Nights), Finesse Mitchell (Saturday Night Live) and apparently comedian Ron White as well.
This series might be enough for me to get Showtime for a month after the series ends so I can binge watch it. It looks like it has some Almost Famous flair to it, but with a bit of Singles thrown in there for good measure. Since Crowe hasn't delivered a fantastic film in quite awhile, I'm hoping this series that he wrote, directed, created and executive produced makes up for it.
Roadies gives an insider's look at the reckless, romantic, funny and often poignant lives of a committed group of "roadies" who live for music and the de facto family they've formed along the way. The music-infused ensemble comedy series chronicles the rock world through the eyes of music's unsung heroes and puts the spotlight on the backstage workers who put the show on the road while touring the United States for a successful arena-level band.
Roadies premieres on Sunday, June 26 at 10pm ET only on Showtime.