'The Boss' Red-Band Trailer: Melissa McCarthy And Peter Dinklage Get Into A Sword Fight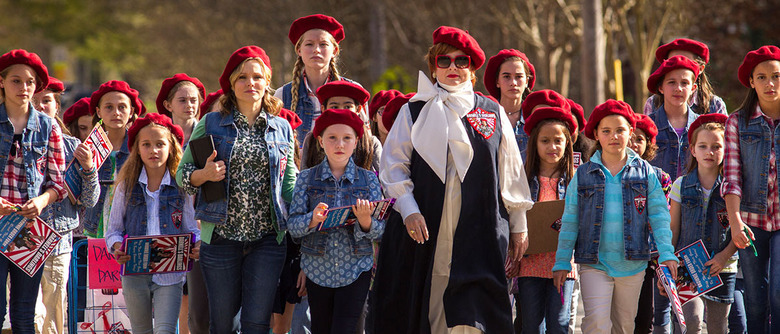 Melissa McCarthy may not be returning for the Gilmore Girls revival, to the endless disappointment of Gilmore Girls fans, but don't worry — she's got plenty of other stuff to keep her busy in the coming months. Not only will she appear as one of the new fab four in Paul Feig's Ghostbusters reboot, she's also starring in The Boss, which reunites her with her Tammy director (and real-life husband) Ben Falcone.
McCarthy plays Michelle Darnell, a hotshot CEO whose extravagant lifestyle comes crashing down when she's arrested for insider trading. She emerges from prison disgraced and discouraged, but finds an unlikely path back to the top in the form of Girl Scout cookies. Or rather, "Darnell's Darlings Brownies." Kristen Bell plays Michelle's reluctant business partner, and Peter Dinklage shows up as... unclear, but the role involves him wielding a sword. Watch The Boss red-band trailer after the jump. 
As she's proven in Bridesmaids, This Is 40, Identity Thief, The Heat, Spy, etc., McCarthy knows her way around a colorful insult. (She could give even Deadpool a run for his money on that front.) And The Boss, which has McCarthy playing a Trump-like bully, seems to offer her plenty of opportunities to show off that particular skill. But I'm inclined to think the putdowns were actually funnier in the green-band trailer, when the rules against bad language meant the insults had to be more creative.
And while it's always great to see Bell, it feels like a waste to cast her as Michelle's humorless straight-woman. Bell can do acerbic really well, as Veronica Mars fans can attest, and it might have been more fun to watch her go toe-to-toe with Michelle than meekly follow her instructions. On the bright side, though, if you're a fan of comedies in which horrible people end up as unlikely role models to impressionable kids, The Boss seems to have that base covered.
The Boss arrives April 8.
Academy Award®-nominated star Melissa McCarthy (Bridesmaids, The Heat, Tammy) headlines The Boss as a titan of industry who is sent to prison after she's caught for insider trading. When she emerges ready to rebrand herself as America's latest sweetheart, not everyone she screwed over is so quick to forgive and forget.
McCarthy is joined in The Boss by an all-star cast led by Kristen Bell, Peter Dinklage and Kathy Bates. Directed by Ben Falcone (Tammy), the comedy is based on an original character created by McCarthy and written by McCarthy and Falcone alongside their Groundlings collaborator, Steve Mallory. The film is produced by McCarthy and Falcone through their On the Day productions and Will Ferrell, Adam McKay and Chris Henchy through their Gary Sanchez Productions.