'The Maltese Falcon' Is Returning To Theaters For Its 75th Anniversary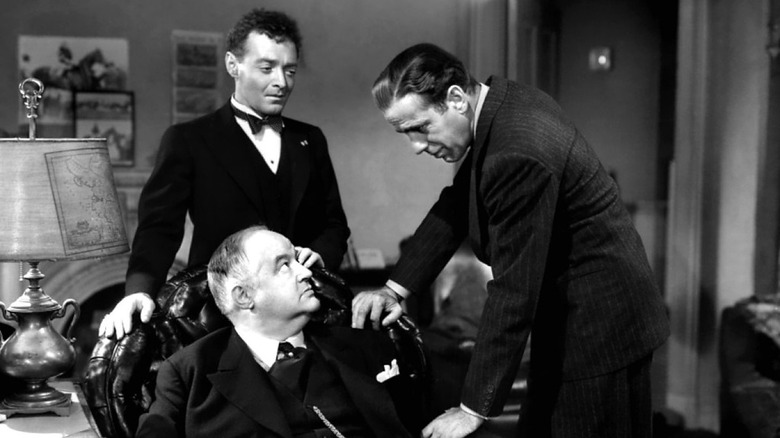 Have you never experienced the wonders of seeing Humphrey Bogart on the big screen? Have you never watched a John Huston film in a movie theater either? Well, now you can do both, because Fathom Events and Turner Classic Movies are teaming up for anniversary screenings of The Maltese Falcon.
Find out when and where you can see the film in theaters below.
The Maltese Falcon was released on October 3rd, 1941. Huston's adaptation of Dashiell Hammett's novel, which is every bit as exciting as Huston's film, scored three Academy Award nominations, which is kind of a low tally for The Maltese Falcon. Somehow Bogart wasn't nominated for his performance as Sam Spade. Even without an Academy Award, though, his performance has stood the test of time. Who would've thought movies could last without much Oscar gold on their side?
Here's the full press release for the Maltese Falcon anniversary screening:
DENVER (Feb. 8, 2016) — Frequently considered the first – and finest – example of film noir filmmaking in Hollywood, 1941's classic THE MALTESE FALCON will cast its mysterious shadows on the silver screen once again on Feb. 21 and Feb. 24 as part of the Fathom Events and Turner Classic Movies (TCM) TCM Big Screen Classics series.
In a special presentation for the 75th anniversary of the Warner Bros. classic, TCM host Ben Mankiewicz will offer all-new commentary for THE MALTESE FALCON, which will play before and after each screening. But moviegoers should take note that the opportunity to see "the stuff that dreams are made of" in theaters will be fleeting: THE MALTESE FALCON will play four times only, at 2 p.m. and 7 p.m. (local time) each day.
THE MALTESE FALCON will play in more than 650 theaters nationwide, offering longtime fans of the hard-boiled thriller, directed by John Huston, the rare chance to see it in theaters, while a new generation can discover the secrets of the infamous "black bird" by seeing it on the big screen for the first time.
Originally released on Oct. 3, 1941, as the nation braced itself for the possibility of war, THE MALTESE FALCON launched Huston's directorial career with the story of high-living lowlifes who will stop at nothing to get their sweaty hands on a jewel-encrusted falcon. Detective Sam Spade, played by legendary Humphrey Bogart, wants to find out why – and who'll take the fall for his partner's murder.
Tickets to TCM Big Screen Classics: THE MALTESE FALCON 75th Anniversary can be purchased online from Fathom Events.
FATHOM EVENTS AND TURNER CLASSIC MOVIES PRESENT
'TCM BIG SCREEN CLASSICS': THE MALTESE FALCON 75th ANNIVERSARY
WHO:
Fathom Events, Turner Classic Movies and Warner Bros.
WHAT:
"TCM Big Screen Classics: The Maltese Falcon 75th Anniversary"
WHERE:
More than 650 select movie theaters nationwide. Tickets are available online at www.FathomEvents.com or at participating theater box offices. For a complete list of participating
WHEN:
Sunday, Feb. 21, 2016 2 p.m. and 7 p.m. local time
It's been over a decade since I've seen The Maltese Falcon or read Hammett's novel, so I'm going to take advantage of this opportunity. The film will play in 650 select movie theaters. If you're in New York or Los Angeles, you can bank on The Maltese Falcon anniversary screening being available in a theater near you.
Maltese Falcon returns to theaters February 21st.