Mondo Is Dedicating Its Next Gallery Show To Richard Linklater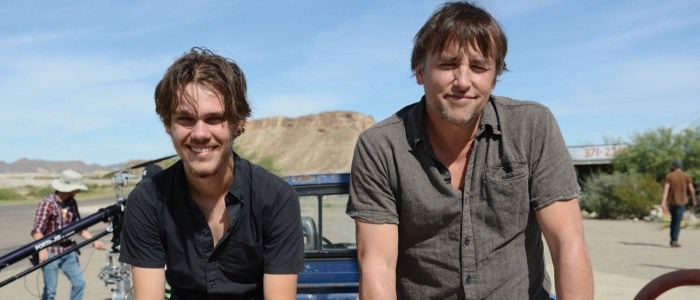 Director Richard Linklater is one of Austin, Texas' favorite sons, so it was not surprising in the slightest when his newest movie, Everybody Wants Some, was selected to open this year's SXSW Film Festival. Linklater's work has screened at the fest on several occasions and Linklater himself has put in more than a few memorable appearances. He interviewed fellow Texan Wes Anderson after a screening of The Grand Budapest Hotel a few years ago and it was magnificent.
And that brings us to the news of the moment: Mondo, the Austin-based purveyor of terrific film and pop culture-related posters that sell out way too fast, is dedicating its next gallery show to Linklater and his work.
Called No Longer/Not Yet, the show will pay tribute to Linklater's films and feature the work of a murderer's row of talented artists, including Dan Black, James Flames, Jason Munn, Phantom City Creative, Jay Ryan, Jay Shaw, Matt Taylor, Kevin Tong, and We Buy Your Kids. The show will run from March 12 through March 15, overlapping with the opening days of the this year's SXSW.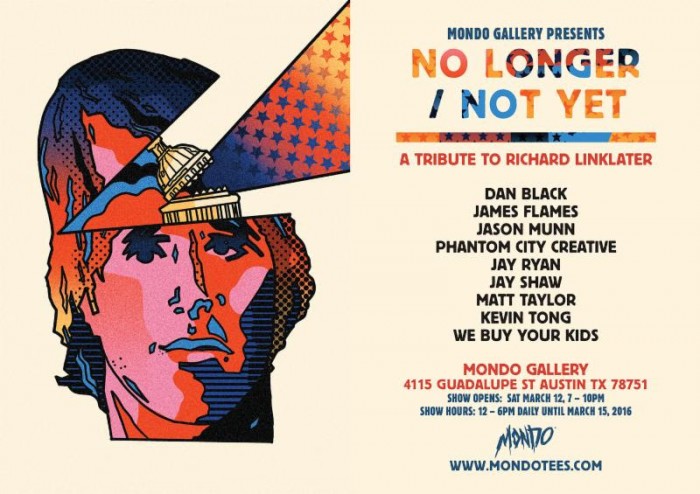 This is a very interesting choice for Mondo, whose gallery shows tend to hang out on the geekier end of the spectrum. Past themes have included Batman, Universal Monsters, and Star Wars, so seeing them dedicate their space to the man behind quieter masterpieces like Dazed and Confused, Boyhood, Slacker, Waking Life and the Before trilogy is a refreshing change of pace. Can we cross our fingers for a great A Scanner Darkly poster?
/Film will be attending SXSW, so we should be able to bring you closer look at this show when the doors open next month. Here is the complete press release for No Longer/Not Yet:
Mondo Gallery is excited to announce its next show will celebrate director Richard Linklater's esteemed filmography including his newest film 
Everybody Wants Some
, making its World Premiere at the SXSW Film Festival. The show will feature limited edition screen-printed posters for several of Linklater's classic films including 
Slacker
, 
Dazed and Confused
, 
Waking Life
, 
Bernie
, 
Boyhood
 and more. The show will kick off with an opening reception, open to the public, on 
Saturday, March 12, 2016 from 7pm to 10pm 
and will run regular hours until 
Tuesday March 15, 2016
. Mondo Gallery is located at 4115 Guadalupe Street in Austin, TX.
Richard Linklater is one of the key figures responsible for establishing Austin's incredible film community — a community that Mondo and Alamo Drafthouse are immensely proud to be a part of. From founding the Austin Film Society to producing films in and around the Austin area, Richard Linklater is a champion of cinema in the city. His stories tell the journey of life as it is, funny and challenging and constantly moving. Mondo is thrilled to honor him and his filmography with a talented group of artists to interpret these themes with an art exhibit as unique and diverse as the films he has made.
"Mondo has reinvigorated cinematic poster design. It's a big honor to have their trailblazing design team reimagine the art that accompanies my films," said Richard Linklater
"No director's films feel more aesthetically tied to Austin, TX than those of Richard Linklater. Between classics like The Before Trilogy, Dazed and Confused, Boyhood, I think all of us can call at least one of his movies a favorite. We will welcome him to our gallery with a definitive collection of screen-printed posters paying tribute to one of Texas' premier storytellers," said Mondo Co-Founder/Creative Director Mitch Putnam.