'Whiskey Tango Foxtrot' Trailer: Tina Fey Could Make For A Very Handsome Boy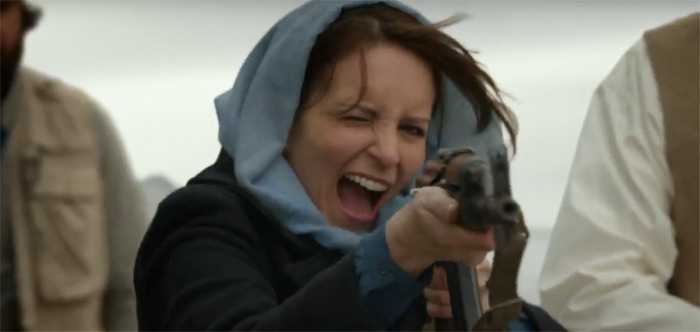 We may receive a commission on purchases made from links.
The conflicts in Afghanistan and Pakistan are no laughing matter, but that's what makes Whiskey Tango Foxtrot look like such an intriguing and promising concept. Based on journalist Kim Barker's wartime memoir The Taliban Shuffle, the film follows Tina Fey as an American reporter who decides to take her talents to the Middle East for the first time, learning first-hand the challenges of being a woman in the area.
A new Whiskey Tango Foxtrot trailer has just arrived, showing off what looks like it could be a thoroughly entertaining and poignant movie about the Middle East like we've never seen before.
Margot Robbie is also on hand as the more experienced war zone journalist, showing Fey the ropes – which includes sleeping with some of the bodyguards hired to protect foreign journalists. It's just one of the many surprisingly lighthearted jokes in the movie, which is no easy feat when you consider the subject matter at hand. But as we saw in the first trailer, there's plenty of darker satire as well.
This trailer gives us a slightly better idea of the story, showing that Fey and Robbie end up going after some kind of big story perhaps involving Alfred Molina as some kind of seemingly powerful Afghan man in the area. Plus, we get to see more of Martin Freeman, putting on a different accent this time.
This certainly isn't the kind of movie we're used to Fey doing, and she's well aware of that, previously telling USA Today:
For me to get to do a movie where I fly in helicopters and shoot guns and run from explosions, that's a treat. I don't get to do any of those things on a daily basis. It couldn't have been a more thrilling experience. I'm not supposed to be on SNL, I'm not supposed to be here making this movie. I should just be in suburban Pennsylvania being a high school teacher. The idea of someone having a very large life experience that no one would have expected was something very easy for me to connect with.
The film is directed by Crazy Stupid Love helmers Glenn Ficarra and John Requa with Christopher Abbott, Nicholas Braun, Sheila Vand, Stephen Peacocke, Evan Jonigkeit and Billy Bob Thornton rounding out the supporting cast.
Whiskey Tango Foxtrot hits theaters next month on March 4.