New 'Brothers Grimsby' Red Band Trailer Calls Back Sacha Baron Cohen's Greatest Hits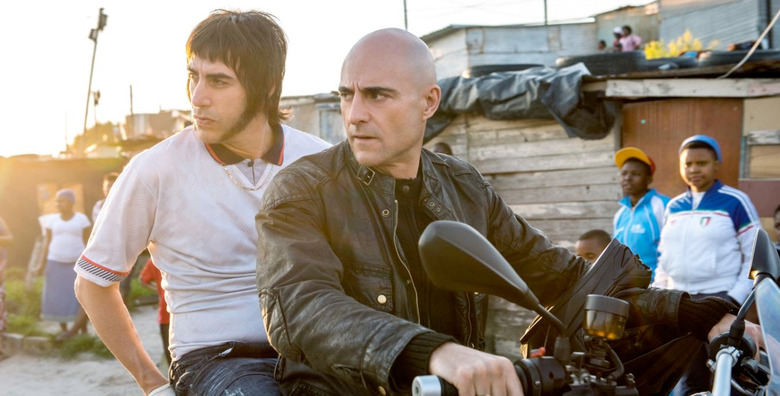 After making a huge splash by bringing his small screen character Borat to the big screen in one of the most unique and hilarious comedies of the past 20 years (despite endless quotes from everyone nearly ruining it), Sacha Baron Cohen hasn't exactly captured the magic of that feature film outing, but he's not giving up.
The latest comedy from the creator and star of Da Ali G Show is The Brothers Grimsby, a conventional action comedy starring Mark Strong as one of the greatest spies working today, who suddenly finds his career and life in jeopardy when his estranged, screw-up of a brother shows up to reconnect with him. A new Brothers Grimsby red band trailer has just surfaced, taking full advantage of the roster of characters Cohen has played before in order to help audiences get interested in this new one.
Here's the new Brothers Grimsby red band trailer from Sony Pictures:
Judging from the trailer, this looks like a comedy where the character played by Cohen is the most interesting thing about it, but sadly the jokes involving him feel a bit stale. The familiar poison-sucking scene, a Bill Cosby jab, a line from Cohen about nearly pissing himself only to find out he really did, nothing about these jokes is original. Therefore reminding audiences of the better comedy that came from Borat probably isn't a good idea.
However, there might be hope for this comedy, because there seems to be plenty of stuff they can't show us just yet. For example, Sacha Baron Cohen stopped by Jimmy Kimmel last night, and shared a super graphic clip with the studio audience. You can't watch the full clip yourself, but you can see the audience reaction to the part that isn't suitable for television:
Perhaps the most intriguing part of this movie will be Mark Strong taking on comedy, but he seems to be almost too serious in the role. He's clearly supposed to be the straight man, but this doesn't feel quite as funny as when Jason Statham did something similar in Spy, a film that more than likely won't help make this one look any better by comparison. Since Louis Leterrier, director The Transporter, is at the helm of this, I wonder if Statham was intended to get the role, but he had already been cast in Spy.
Nobby (Sacha Baron Cohen), a sweet but dimwitted English football hooligan, reunites with his long-lost brother Sebastian (Mark Strong), a deadly MI6 agent, to prevent a massive global terror attack and prove that behind every great spy is an embarrassing sibling. Nobby has everything a man from Grimsby could want: 11 children, the most gorgeous wife (Rebel Wilson) in the northeast of England, and numerous welfare scams that keep the checks rolling in. There's only one thing missing: his little brother, Sebastian, whom Nobby hasn't seen in 28 years. Nobby sets off to reunite with Sebastian, unaware that not only is his brother MI6's deadliest assassin, he's just uncovered plans for an imminent global terrorist attack. On the run and wrongfully accused, Sebastian realizes that if he's going to the save the world, he's going to need the help of its biggest idiot.
The Brothers Grimsby opens on February 24 in the UK but hits American theaters on March 11.