'Batman V Superman: Dawn Of Justice' Final Trailer Is All About Batman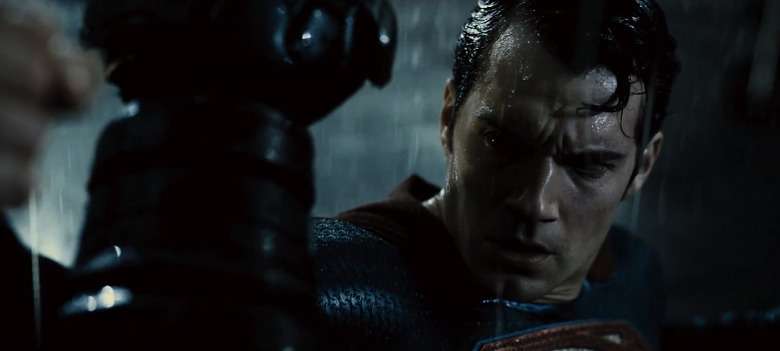 With enemies like these, who needs friends, right? The final Batman v Superman: Dawn of Justice trailer shows Batman (Ben Affleck) basically preparing to go to war with Superman (Henry Cavill). And to be sure, Batman makes a pretty solid argument in favor of taking down the Man of Steel. "He has the power to wipe out the entire human race," says Bruce. "If we believe there is even a 1% chance that he is our enemy, we have to take it as an absolute certainty."
What we know that they don't, however, is that this is just a prelude a long and beautiful friendship, or at least frenemy-ship. As the part after the colon in the title suggests, they're eventually going to wind up on the same team against the real villains. But as the Batman v Superman final trailer shows, it's gonna take a whole lot of action and fistfights and big shiny explosions to get there. Watch it after the jump. 
Well, the Batman v Superman final trailer certainly doesn't skimp on the action. And it's even better because so much of the action involves Jeremy Irons' Alfred. The affectionate relationship between Bruce and his butler is a highlight in most iterations of Batman, and Batman v Superman is no exception. Bruce's little eyeroll after Alfred snarks about his death-defying activities is just precious.
What the Batman v Superman final trailer lacks, however, is Superman. The trailer seems to be cut more or less from Batman's perspective, and to him Superman is a mysterious force of ambiguous morality. So we get some displays of Superman's power, and some shots of him glowering at Batman, but you may notice he doesn't actually get to speak a single line. Even Jesse Eisenberg's Lex Luthor and Gal Gadot's Wonder Woman get to do more chatting than he does.
Anyway, once you're done watching that trailer five times on repeat, there's also a Batman v Superman IMAX poster to remind you that you have the option of paying even more to see this superhero showdown, because movie tickets don't cost enough already. Ah, we kid because we love. This might actually be a case where the premium is worth it. As the poster points out, Batman v Superman actually has footage shot in IMAX, which is more than many IMAX releases can say.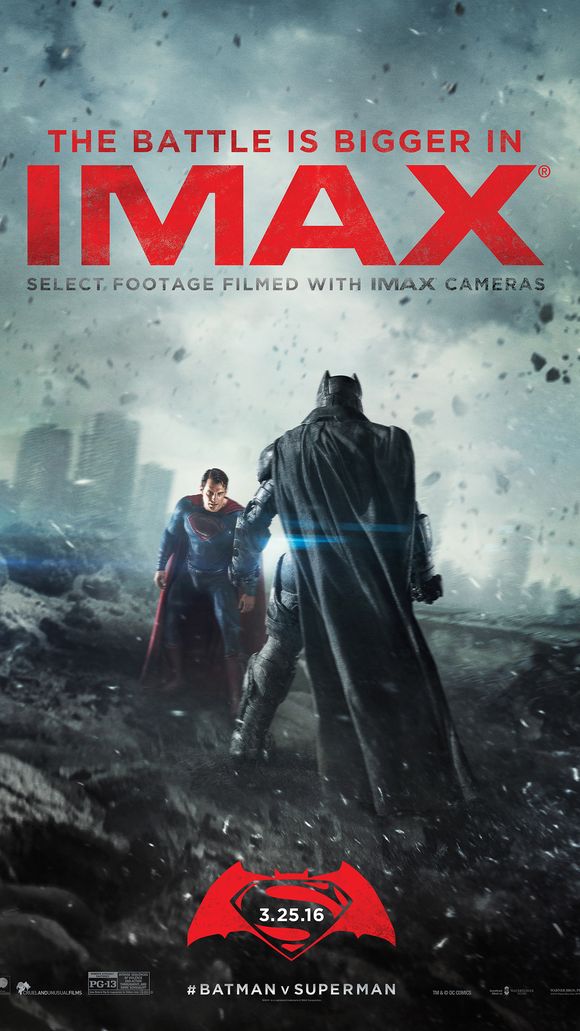 Directed by Zack Snyder, Batman v Superman: Dawn of Justice arrives March 25.
Fearing the actions of a god-like Super Hero left unchecked, Gotham City's own formidable, forceful vigilante takes on Metropolis' most revered, modern-day savior, while the world wrestles with what sort of hero it really needs. And with Batman and Superman at war with one another, a new threat quickly arises, putting mankind in greater danger than it's ever known before.