'A Bigger Splash' Trailer: Tilda Swinton Puts On Her Best Bowie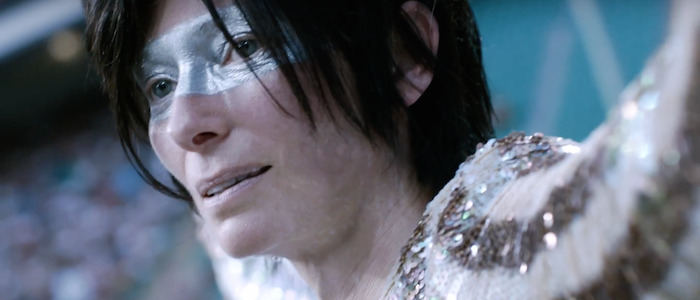 How did it take this long for Tilda Swinton to play a rock star? The seemingly ageless Academy Award winner has tackled many roles throughout her fascinating career, but A Bigger Splash seems to be the first film to recognize how great she can look in shiny face paint and glittery costumes. You look at Swinton and immediately believe that yes, she is a legendary singer because Swinton is everything.
The newest trailer for A Bigger Splash is enigmatic, seemingly skirting around what's really going on in this movie's core, but it's easy to buy what it's selling. How could you say no to a movie starring Swinton and Ralph Fiennes and the stars of Bullhead and Fifty Shades of Grey? That's too strange of a line-up to ignore.
A Bigger Splash finds Swinton once again teaming up with director Luca Guadagnino, who previously directed her in 2009's I Am Love. She plays Marianne Lane, a rock and roll superstar whose island getaway is interrupted by the arrival of her former flame, played by the great Fiennes (and isn't it nice to see him take center stage again after too many years spent playing second fiddle in gigantic blockbusters?). Matthias Schoenaerts, whose work in 2011's Bullhead is simply unforgettable, plays Swinton's current lover and Dakota Johnson, the tailwind actress who is contractually obligated to grin and bear it through three Fifty Shades of Grey movies, plays Fiennes' daughter.
You can also watch the film's first trailer over here.
It's hard to get a handle on what A Bigger Splash really is from this trailer, which sells an upbeat romance and a dark drama about desire before touching on a few thriller-ish aspects in the homestretch. But color us interested – this cast alone is the kind of thing that guarantees us checking this one out. Plus, the fact that the trailer doesn't even seem to be entirely sure what to make of the movie could be a sign that this is the kind of idiosyncratic experience that every filmgoer needs in their diet every once in a while.
Here's the official synopsis for the film:
In A BIGGER SPLASH, rock legend Marianne Lane (Tilda Swinton) is recuperating on the volcanic island of Pantelleria with her partner Paul (Matthias Schoenaerts) when iconoclast record producer and old flame Harry (Ralph Fiennes) unexpectedly arrives with his daughter Penelope (Dakota Johnson) and interrupts their holiday, bringing with him an A-bomb blast of nostalgia from which there can be no rescue. A BIGGER SPLASH is a sensuous portrait of desire, jealousy and rock and roll, under the Mediterranean sun.
A Bigger Splash opens on May 13, 2016.