'House Of Cards' Season 4 Trailer: "You Have No Idea What It Means To Have Nothing"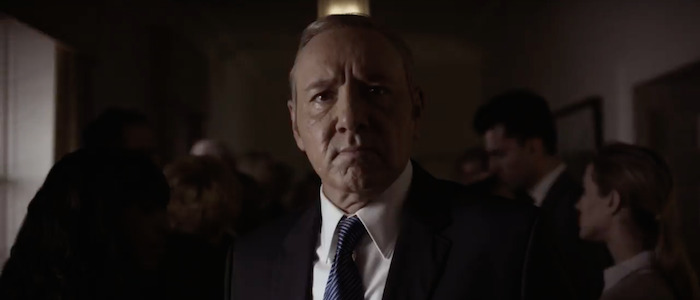 I've joked a few times about Netflix's approach to marketing the fourth season of House of Cards, which has mostly entailed them nothing at all. There has been some viral marketing and some vague teasers, but otherwise, the the streaming service's flagship series has been awfully quiet for a pop culture juggernaut that is less than a month away.
And right on cue, the first proper House of Cards season 4 trailer has arrived. Don't give Netflix too much credit, though – this is still very much a teaser. They know they have a built-in audience for this show no matter what they show off in previews.
Although it's too early to say for sure if this season will be a proper kick in the pants following the lackluster third season, this trailer has certainly done its job of reminding us why so many people have gravitated toward this series in the first place. These 60 seconds may be light on specific plot details, but they're heavy on knowing glances, furrowed brows, thinly veiled threats, attempted murder, marital issues that would make the ancient Greeks cringe, and more than a few startling images that remind us that this series is as well-produced and shot as anything on traditional television.
Oh, and no one scowls and sneers quite like Kevin Spacey. No one.
House of Cards really does have something to prove this season. It has to relocate its misplaced mojo and allow showrunner Beau Willimon a graceful exit as he moves on to other pastures. Sure, the series has already been renewed for a fifth season and Frank Underwood will continue to terrorize the American public for as long as he possibly can, but this could be the batch of episodes that defines Willimon's run with the series.
Here's the official synopsis for the new season:
The critically acclaimed Emmy®-nominated drama has its Golden Globe® winning stars Kevin Spacey (as Francis Underwood) and Robin Wright (as Claire Underwood), whose characters have always been each other's' strongest allies, showing cracks in their relationship. In an election year, the stakes are now higher than ever, and the biggest threat they face is contending with each other.
House of Cards season 4 will drop in its entirety on Netflix on March 4, 2016. In addition to Spacey and Wright, this season also features an impressive ensemble that includes Michael Kelly, Mahershala Ali, Jayne Atkinson, Neve Campbell, Derek Cecil, Nathan Darrow, Kim Dickens, Elizabeth Marvel, Dominique McElligott, Molly Parker, Paul Sparks, with Ellen Burstyn, Cicely Tyson and Joel Kinnaman.