Universal Is Still Trying To Make A 'Battlestar Galactica' Movie Happen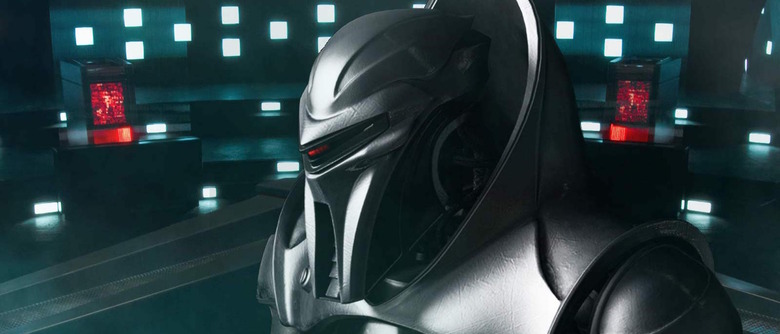 Just as Bill Adama refused to give up on humanity, even after countless Cylon attacks and supply outages and political disputes, Hollywood is not giving up on the notion of a Battlestar Galactica movie, no matter how many false starts they've had in the past. The latest team to attempt to try and maneuver this big old spaceship to the big screen will be Michael De Luca and Scott Stuber, who are producing for Universal. 
THR reported on the latest iteration of the Battlestar Galactica movie. Bluegrass Films' Dylan Clark will also produce. The studio, naturally, is hoping that the project will kickstart a "massive event franchise." No writers, directors, or stars are on board, and no release date has been penciled in — this project is still in the very early stages.
In Battlestar Galactica, humanity has spread out to multiple planets across the galaxy known as the Twelve Colonies, and has long been engaged in war with a cybernetic race known as the Cylons. At the start of the series, the Cylons manage to pull off a massive attack on the Twelve Colonies, wiping out most of the population. The Battlestar Galactica is all that remains of the humans' military fleet. The survivors then set out in search of a fabled colony called Earth.
Battlestar Galactica first debuted on ABC in 1978. The series only lasted one season — or two seasons, if you also count Galactica 1980, a reworking of the original concept — but its impact has lingered for much, much longer. Several attempts to resurrect the franchise followed, and in 2003 Syfy (then known as Sci-Fi Channel) finally succeeded with a miniseries reboot.
The mini was popular enough to launch a full-fledged TV series, which aired for four seasons between 2004 and 2009. The new Battlestar won strong praise, particularly for the strong parallels it drew to the post-9/11 situation in the U.S. and the Middle East. It spawned two prequel spinoffs of its own: Caprica, which aired for one season in 2010, Blood & Chrome, which was eventually released as a web series.
The Battlestar Galactica franchise has never released a feature film, but it's not for lack of effort. In 2009, as the reimagined TV series was approaching its end, Universal began making plans for a movie. Bryan Singer signed on to direct, and John Orloff was hired to script. But that version fell apart, so in 2014 the studio tried to get a new version going with screenwriter Jack Paglen. That hasn't gone anywhere, either, so now they're trying again.
The appeal of a Battlestar Galactica movie for the studio is obvious. The original series was a cult hit, and the reboot was a critically acclaimed drama. It's set in a distant corner of the universe full of countless histories, characters, and planets to explore. The franchise possibilities are basically endless. But as all those failed attempts show, they'll need to make sure to play their cards just right if they want to get there.