Alex Garland's 'Annihilation' Recruits Jennifer Jason Leigh For A Doomed Expedition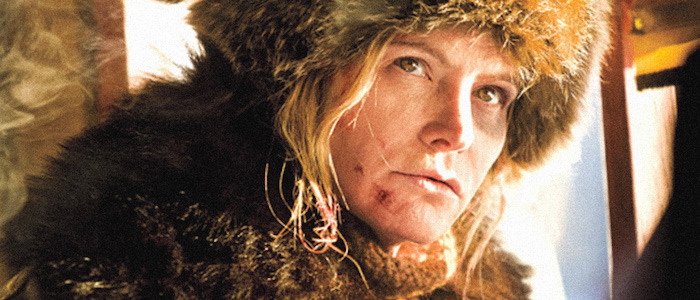 Jennifer Jason Leigh has been having one hell of a year. Her voice work in Anomalisa is remarkable and her deranged performance in The Hateful Eight netted her an Oscar nomination. She's rumored to be heading to the mysterious third season of Twin Peaks. The past twelve months have been a reminder that Leigh is one of the best performers we have and that it's a shame that it took this long for her to have a full and proper comeback.
The latest addition to her victory lap is a role in Alex Garland's science fiction film Annihilation, which needs to be on your radar because it finds an exciting filmmaker adapting a tremendous novel and Leigh is only the latest terrific addition to the promising all-female cast.
The Wrap reports that Leigh is in "early" talks to join the film, which will be directed by Ex Machina's Garland. If she does officially jump on board, she will star alongside Natalie Portman, Creed's Tessa Thompson, and Jane the Virgin's Gina Rodriguez, which is the kind of ensemble that should immediately grab your attention.Annihilation is based on the novel of the same name by Jeff VanderMeer and it is one of the most unsettling and gripping science fiction stories I have ever read. Combining hard science with cosmic horror, it reads like H.P. Lovecraft with significantly more soul. Like some of the best weird fiction out there, it's a frightening tale because of the questions it doesn't answer, rather than the questions it does answer.
The story proper follows a team of four unnamed women who are sent to survey "Area X," a mysterious place whose existence is never fully explained and where the natural laws of reality do not always apply. Previous expeditions have almost entirely ended in death and disaster. The unnamed cast includes a biologist, a surveyor, an anthropologist, and a psychologist. Portman will presumably play the biologist, who narrates the novel, and Leigh must be the psychologist, the group's seasoned leader.
And while the biologist is the lead, the psychologist is the role to get. This could easily be the next great Leigh performance.
As strong as Annihilation is on the page, it's not a particularly cinematic story, with much the action taking place in the mind of the biologist. However, it's easy to imagine Garland taking VanderMeer's concepts and running wild with them, transforming the novel into a movie instead of simply translating it. This may very well be a good thing, as the characters played by Thompson and Rodriguez are minor figures in the novel – why cast actresses that good unless you want to give them more to do?
Annihilation is expected to shoot later this year for a 2017 release date.