Watch: Johnny Depp Is Donald Trump In Funny Or Die's "Lost" Masterpiece 'The Art Of The Deal'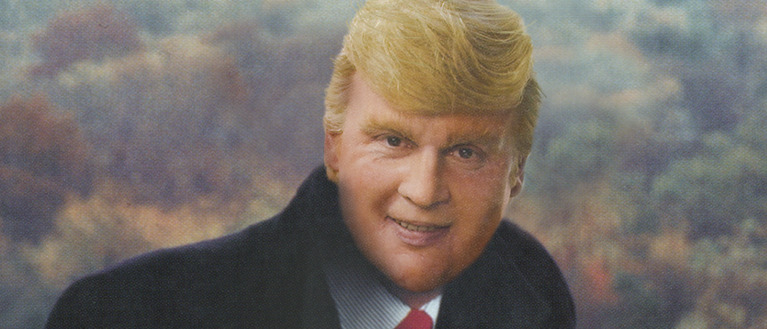 As we've seen in Pirates of the Caribbean, Alice in Wonderland, Dark Shadows, Tusk, Black Mass, and really too many other movies to count, Johnny Depp loves nothing more than to bury himself in makeup, wigs, and prosthetics and emerge as a total weirdo. But his latest role may be his most monstrous transformation yet.
No, we're not talking about
the Invisible Man in The Invisible Man
. We're talking about Johnny Depp playing Donald Trump in The Art of the Deal, a Funny or Die biopic (well, "biopic") about the businessman turned presidential candidate. The entire 50-minute movie has just hit the web, and you can watch it after the jump. 
According to Ron Howard, who introduces The Art of the Deal, the 1988 made-for-TV movie never aired, thanks to a football game that went into overtime, and was then "thought to be lost in the Cybil Shepherd blouse fire of 1989." It wasn't until last summer that Howard stumbled upon a copy of The Art of the Deal in a garage sale. Not only is The Art of the Deal based on Trump's autobiography of the same title, he adds, it was also written, produced, and directed by Trump, and stars the man as himself.
In reality, The Art of the Deal came out of an idea conceived by Funny or Die editor Owen Burke, who pitched the idea to Adam McKay. It's scripted by @midnight writer Joe Randazzo and directed by Drunk History co-creator Jeremy Konner, and features an all-star cast including Patton Oswalt, Alfred Molina, Henry Winkler, Andy Richter, Jack McBrayer, Room breakout Jacob Tremblay, and Michaela Watkins as Ivana Trump.
Depp shot his role over four days in early December, a whirlwind production that Burke describes to the
as "absolutely bananas." Perhaps the most impressive trick the filmmakers pulled off, however, was keeping it under wraps for so long. "We had a few people sign nondisclosures, but mostly we just begged people not to say anything," Burke explained. Said McKay: "It was a crazy, completely nuts idea that somehow we pulled off."
We understand 50 minutes is a lot for a Wednesday morning, so before you take the plunge go ahead and check out the Art of the Deal trailer.
And then check out the full movie below.