The Force Awakens Bits: Daisy Ridley's Badass Stunt Double, A Surprising "Sequel" Comic, And The Indiana Jones Easter Egg You Didn't Notice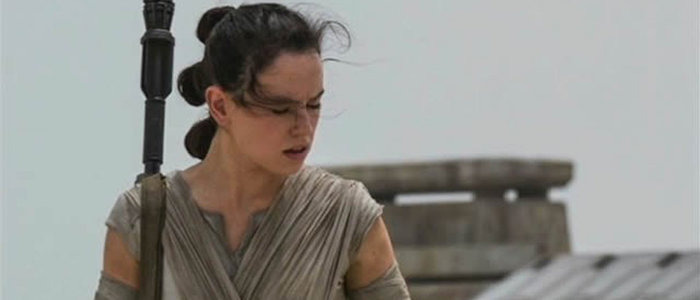 Welcome to today's super-sized edition of The Force Awakens Bits, your one-stop shop for all news pertaining to Star Wars: The Force Awakens. Today:
The Force Awakens hits two more significant box office milestones.
A very surprising "sequel" comic with a special guest.
How Kylo Ren and BB-8's voices were created.
Meet Chloe Bruce, Daisy Ridley's stunt double.
Two clever new pieces of The Force Awakens fan art.
A short film examining how The Force Awakens was projected in IMAX.
How to build your own BB-8 for only $120.
The Raiders of the Lost Ark joke smuggled into the sound mix.
A Solo family portrait... and its darker Netflix series spin-off.
Did Star Wars kneecap The Hunger Games at the box office?
Star Wars: The Force Awakens has probably just passed its final two box office milestones. After 53 days in release, the film has crossed $2 billion at the international box office, with over $900 million of that coming from the domestic market. The Force Awakens is only the third film in history to break $2 billion and it now occupies a club previously owned only by James Cameron. However, there is a downside to this. While it achieved these numbers in record time, The Force Awakens isn't showcasing the legs of Avatar and it won't even come close to dethroning it as international box office champion. However, it still has a shot at toppling Titanic and taking second place if things continue to go just right. It'll be close.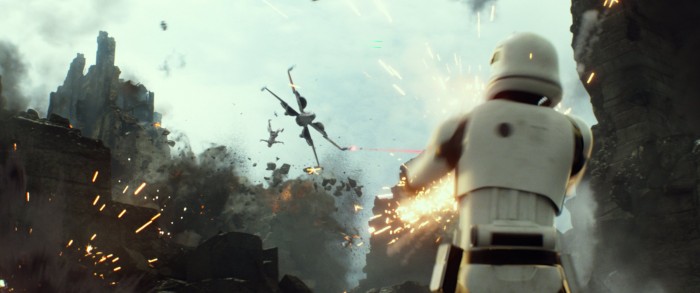 Speaking of box office, Lionsgate co-chairman Rob Friedman has decided to partially blame the success of The Force Awakens for the disappointing gross of The Hunger Games: Mockingjay Part 2. In a statement that is going to cause more than a few eyes to roll, Friedman answered questions about Mockingjay's failure with "I think the combination of circumstances was unique between the terrorist attack in Europe and Star Wars." He went on to say that the success of The Force Awakens "hit our numbers by somewhere between $50M and $100M." Of course, he has to say something to keep investors happy as the company's stock takes a huge tumble, but Mockingjay was out for a full month before Star Wars and it was underperforming for that entire month. So this is what B.S. smells like...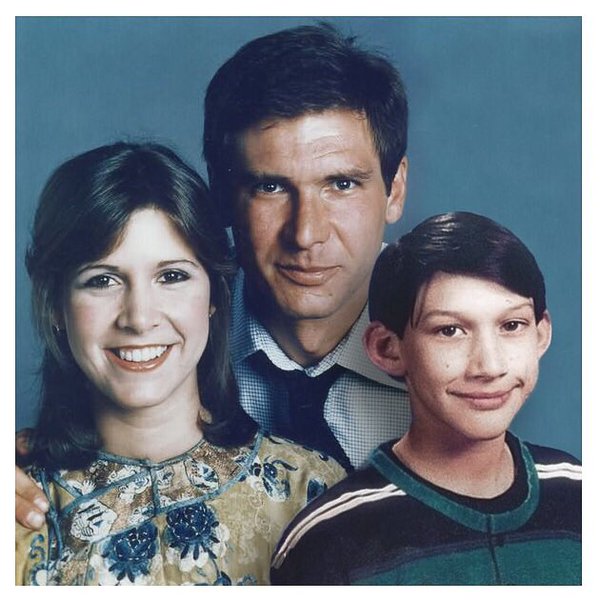 In lighter news, someone decided to create a Solo family photo, reflecting a simpler time. You know, before everything really went to hell with murdering and betraying and such. However, someone else decided to take this concept and perfect it, resulting in the gem you see below: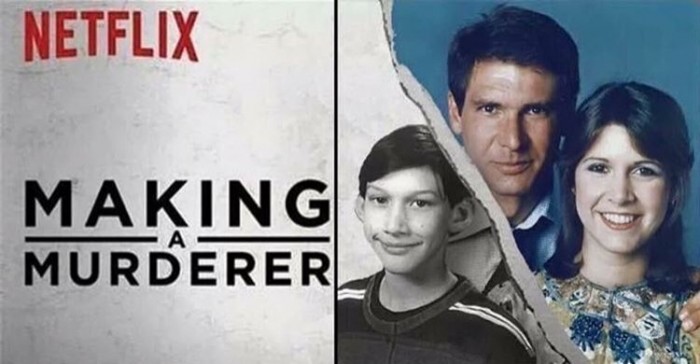 Artist Stephen Bryne has gone and drawn the only Star Wars: The Force Awakens sequel story you will ever need. They might as well just call up Rian Johnson and cancel Star Wars: Episode 8. After all, how can you top a comic that begins with this: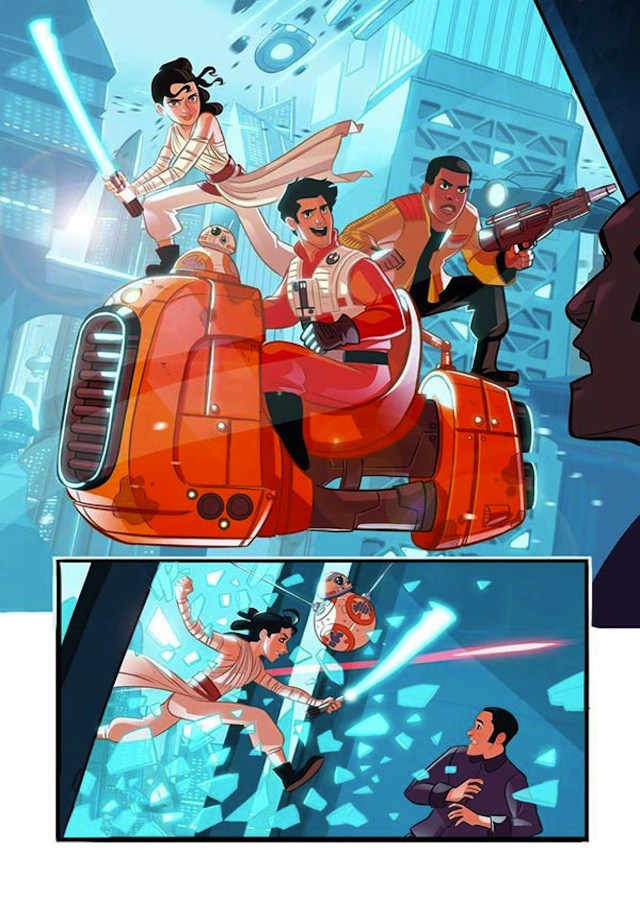 And ends with this?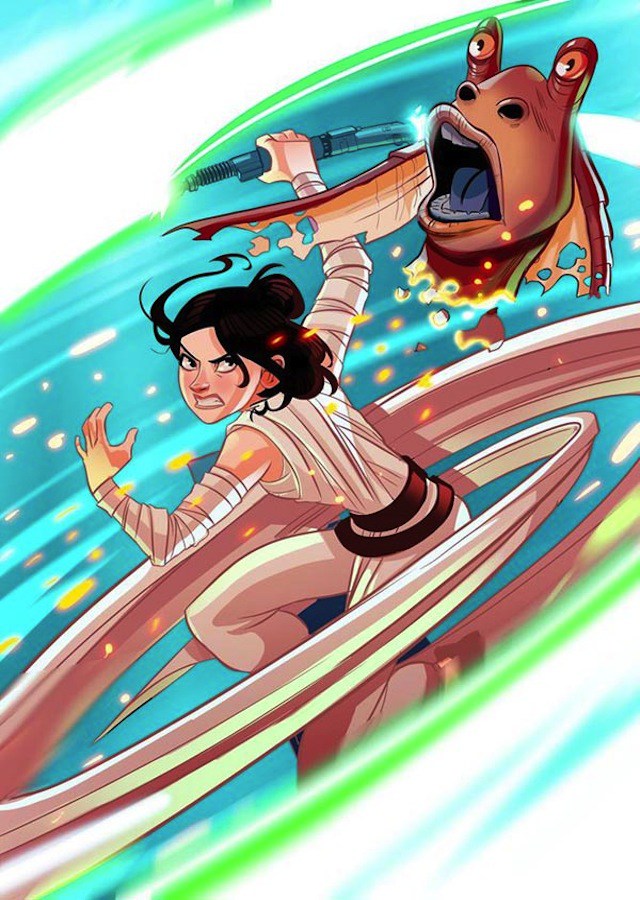 You can check the whole thing over at Geeks Are Sexy.
The Los Angeles Times sat down with the Oscar-nominated sound crew of The Force Awakens to discuss how they brought some of the film's instantly iconic voices to life. Sound editors Matthew Wood and David Acord and sound mixers Andy Nelson, Christopher Scarabosio, and Stuart Wilson all shared great stories from the set and from post-production, but one of the more interesting anecdotes involves how they recorded Adam Driver's voice to help create Kylo Ren's distinct sound:
On set, Wilson placed a microphone inside [Adam Driver's] mask and attached another one to his chest. "Adam has a great voice, and by placing two mics and combining them in phase, it gave it this larger-than-life quality with a lot of bass and presence." Wood then recorded additional dialogue with Driver using the mask's final post processing. "We don't normally do that kind of thing live with an actor, but it allowed Adam to get more into the character and play with it as an acting tool." It was then up to Nelson to make the dialogue audible. "There's a tendency when you hear a line of dialogue a few times that it becomes clearer in your head even if the audience can't. So I became the gatekeeper and stepped in when we needed to lighten up so the audience wouldn't be left saying, 'What did he say?'"
And, of course, they also chatted about BB-8, whose electronic voice was guided by actors and carefully manipulated to ensure that he stood out from other droids:
"He wanted it to sound distinct enough so if it was outside the doorway, and you couldn't see it, you'd still know it was him. We set J.J. up with a tactical interface so he could be more hands-on in the creative process and have points to touch on a synthesizer, controlling timbre and pitch. We then brought actors in to guide an emotional beat and refined BB-8 until we found its final audio palette," Wood says.
Daisy Ridley may showcase "instant movie star" chops in The Force Awakens, but behind every great movie heroine lies a great stuntwoman. In this case, we're talking about Chloe Bruce, whose acrobatic abilities and handiness with a staff make her the ideal stand-in for Rey when the action gets a little too crazy for a non-Jedi. And let's face it: if the video above is any indication, she is the closest thing the real world has to an actual Jedi.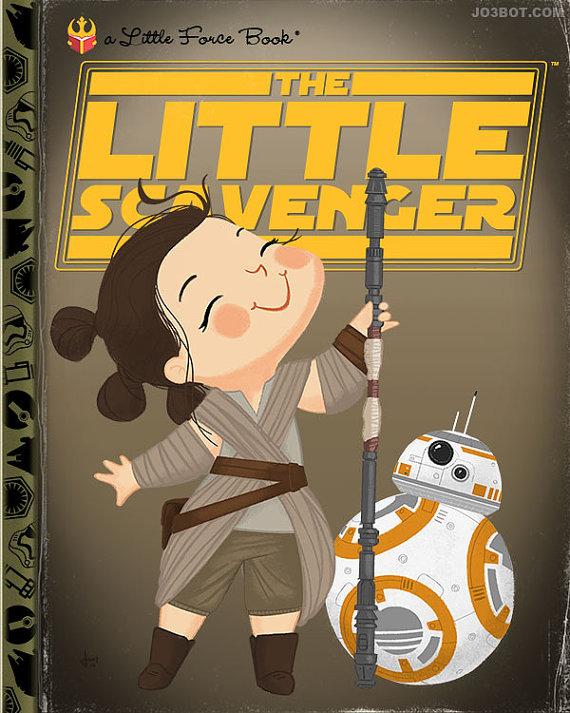 Etsy artist joebot has made an entire series of art prints that transplant pop culture characters on to the covers of Little Golden Books and his latest subject is Rey and and BB-8. It's adorable and if you think it's twenty bucks worth of adorable, you can buy a copy at the link above.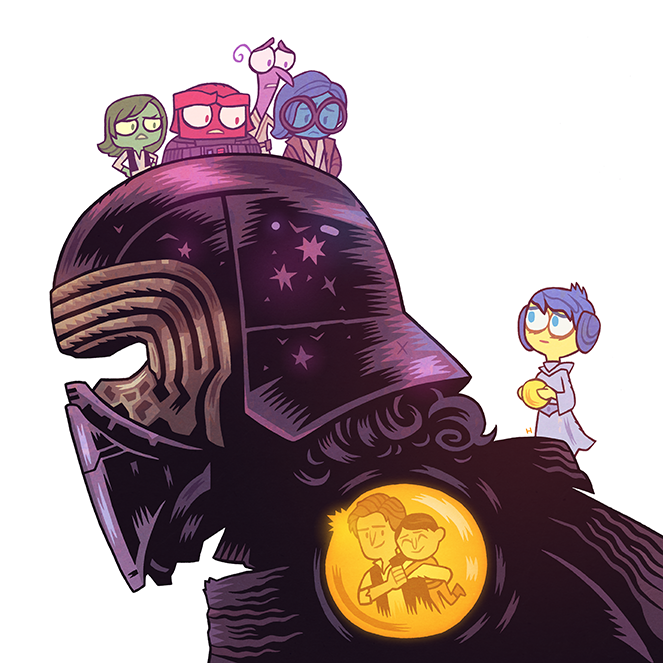 But if you want art that will stab your feelings with a lightsaber and then let tumble off a bridge into the abyss of a deadly battle station, this piece of art from the talented Dan Hipp will do the job. The thought of combining The Force Awakens and Inside Out certainly sounds unbearable, but the execution is surprisingly effective, especially since Hipp has cast each of Kylo Ren's emotions with the exact right character.
Projecting a 70mm film print in IMAX is no easy feat and when you're one of the 15 theaters in the entire world screening The Force Awakens in this format, the responsibility on your shoulders is huge. Thankfully, a filmmaker has documented the process for future generations, showcasing the craft that goes into proper film projection. Here's how he describes this 9-minute short film:
Hello, my name is Denzale Butler, and I am an independent filmmaker from Birmingham, Alabama. Below is a link to a video I filmed in Birmingham at the John W. Woods IMAX Dome theater attached to the McWane Science Center. The film follows as two projectionists splice together film and project the film.
If you want to see more of the process a 17-minute version can be watched below.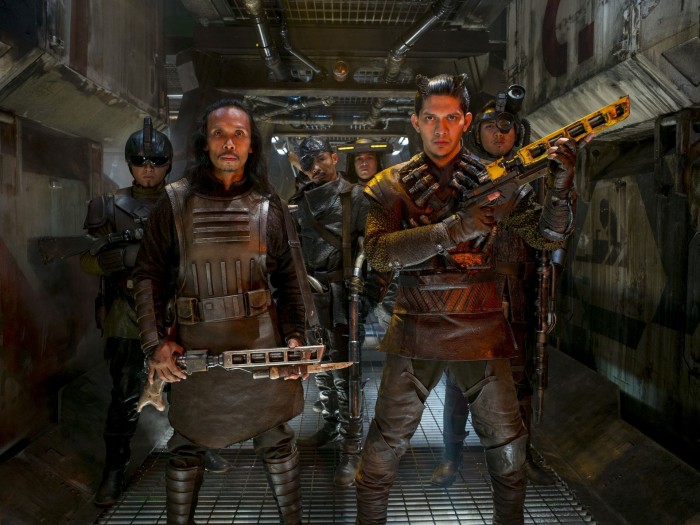 If you're keeping a master list of every Easter egg, reference, and in-joke smuggled into The Force Awakens, it's time for another update. Sound designer David Acord sat down with Nerdist and revealed that another iconic Lucasfilm movie has a clever aural cameo in the film:
Then there's some other cool things like when the rathtar is rolling down the hallway after Han and Chewie, I put in the sound of Ben Burtt's boulder roll sound from Raiders of the Lost Ark when the boulder is chasing Indy.
Since Raiders of the Lost Ark managed to smuggle R2-D2 and C-3PO into some hieroglyphics, the movie had to return the favor somehow! Accord also revealed that the noise that accompanies Kylo Ren's use of the Force has a very simple and not-so-dark origin:
Off the top of my head, the Kylo Ren Force rumble—the really chunky and animalistic rumble—is my cat's purring. It's heavily pitched and slowed version of my cat's purr that becomes Kylo Force rumble.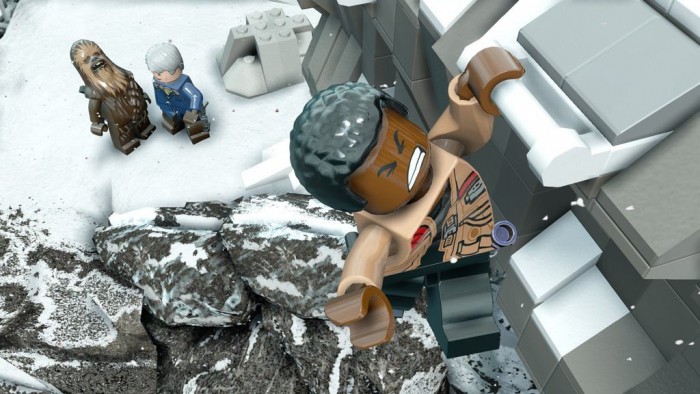 We knew that the upcoming LEGO Star Wars: The Force Awakens video game would help bridge the gap between Return of the Jedi and The Force Awakens, but a new interview with the game's director, Jamie Edin, has provided a few new details:
There will be scenarios where a certain thing happens in the film where you ask, 'How did we get to this, how did these characters meet, how did this occur?' and we get to tell some of these stories in the game.
You probably shouldn't get your hopes up for any kind of huge revelations (this is a goofy LEGO game, after all), but you can probably expect a fair share of "Oh, so that's why that was like that!" moments.
If you want to possess a BB-8 to have and to hold from this day forward until death do you part, your options aren't limited. You can buy a $10 Pop figure or drop a couple hundred bucks on the app-controlled Sphero toy. Or, if you're crafty, have a $120 budget, and know how to follow a YouTube video step-by-step, you can build your own life-size version of the droid that you can control with your phone. Seriously. You don't even need a 3D printer, just a hardware store, the right tools, and a little patience.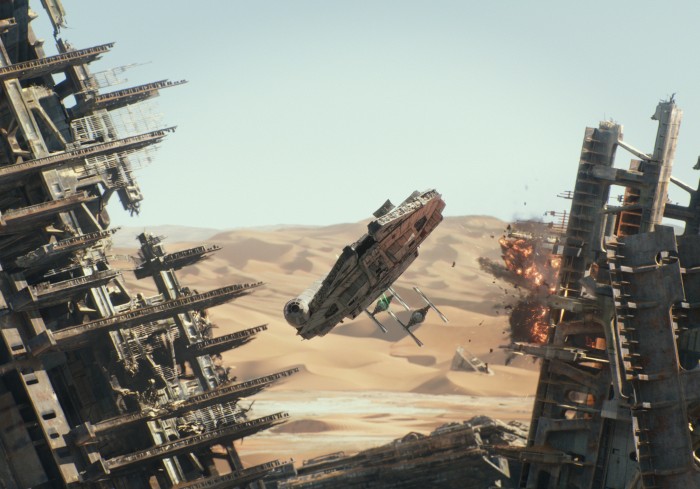 If you want to take a deep dive into the pre-visualization and post-visualization process on The Force Awakens, Animation World Network spoke with previs supervisor Brad Alexander and postvis supervisor A.J. Briones. The result is a really in-depth chat about a process that is increasingly vital in large-scale filmmaking that doesn't receive much attention. For example, they revealed that much of their work was accomplished on software you can go out and buy right now:
For previs, a lot of our software was mainly off the shelf. Maya and After Effects were used for individual shots, and Premiere was used for rough edits.  We did some motion-capture in our volume at HALON for some sequences using our OptiTrak system along with Arena, then clean-up using MotionBuilder.
Had a lot of fun with this one! Thanks @suannegalloway #2dink #minot #nd #northdakota #starwars #kyloren #adamdriver #matttheradartechnician #colortattoo #inked_fx #tattoosnob #starwarstattoo #nerdytattoos #snl #forceguys_n_ink #bishoprotary #neotradsub #neotraditionals #skinartmag #tattoorevuemag
Okay, is this where we have to draw the line at "Matt the radar technician" fandom? Because a costume is one thing, but getting an SNL parody of a Star Wars character permanently inked on your skin certainly sounds like the kind of thing you regret a decade or so down the line. And yet, it is pretty terrific work from an obviously tilted tattoo artist.