The First Poster For Netflix's 'Voltron' Series Is Here For You To Aggressively Nitpick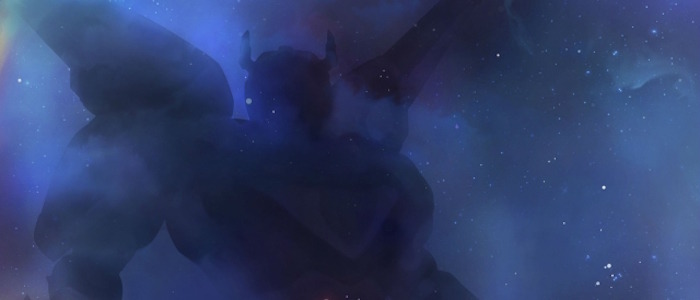 Last month, we learned that DreamWorks Animation and Netflix were teaming up to resurrect Voltron, brining the beloved animated series to a generation via streaming. Now, thanks to the release of a new poster, we have our first look at the show's logo and full title, as well as a silhouette of the big guy himself. If you're the kind of person who has strong opinions on what cartoon robots should look like (and don't worry, we're all the kind of person who has strong opinions on what cartoon robots should look like), feel free to nitpick away.
You can check out the full poster below (via Nerdist), which reveals that the series will be titled Voltron: Legendary Defender. The logo itself is fairly close to past versions, although the blue, green, yellow and red colors now border the font, which is a vaguely metallic white. In other words, it's close enough to what you remember that it shouldn't offend you too much. Plus, the kids who at the actual target audience for this thing won't care at all.
As for Voltron himself... Well, he certainly looks like classic Voltron even in this vague, teaser form, which should ease worries that he was in for a Michael Bay-esque redesign that would complicate him beyond reason. I remember director Guillermo del Toro describing his philosophy on giant robot design when he was making Pacific Rim – if you can't identity a robot or a monster based on its silhouette alone, then you have a problem. Even if you don't care about Voltron (I fall somewhere between a raised eyebrow and a shrug because I was raised in a Transformers household), this is a solid example of clean, iconic design that stands the test of time.
We still know very little about what Netflix has in store for Voltron. We do know that their partnership with DreamWorks Animation has proven very lucrative, with shows like TURBO Fast, All Hail King Julien, and The Adventures of Puss in Boots doing what they were designed to do – keep kids occupied so their parents can sneak outside for their daily cigarette and scream. However, Voltron is in the interesting position of having a large number of adult fans who will undoubtedly want to check out this latest incarnation, especially since the long-rumored live action movie doesn't seem to be in the works anymore.
Voltron: Legendary Defender doesn't have a release date, but you can expect episodes to drop before 2016 is over.