First 'Fuller House' Trailer Brings Back All Your Favorite '90s Catchphrases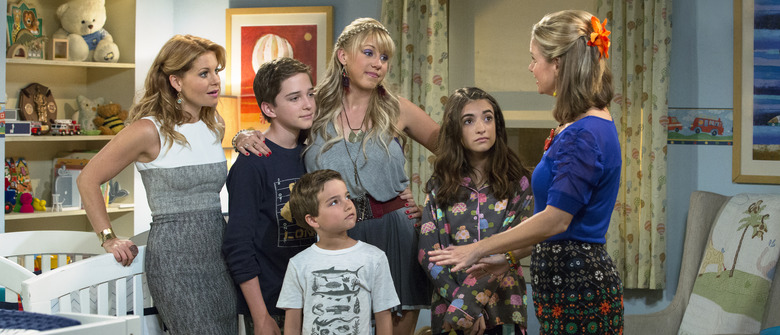 The first Fuller House promo took us back into that familiar San Francisco living room, and the second Fuller House promo brought some old familiar faces back into our lives. Now, at long last, the first real Fuller House trailers offers us a glimpse at just how the Tanners and their friends are doing in the year 2016. As it turns out, they're... not really doing that much differently than they were in the 1990s.
In the first footage from the show, Uncle Jesse (John Stamos) remarks, "Damn, we all still look good!" while he, Stephanie (Jodie Sweetin), Danny (Bob Saget), and Uncle Joey (Dave Coulier) resurrect their favorite catchphrases. And that's not even getting into Kimmy (Andrea Barber), who hasn't updated her dance moves or her slang vocab since about 1995. Watch the new Fuller House trailer after the jump. 
The Fuller House trailer is a little heavy-handed with the '90s references, but maybe that's just smart marketing, considering the show's entire appeal relies on your nostalgia for the early- to mid-'90s. And they come from a place of self-awareness and affection — the show's smart enough to realize it's not 1995 anymore, but it's not ashamed of its sappy sitcom roots, either. Fuller House isn't breaking any new ground, and if you didn't care for the original there doesn't seem to be any good reason to tune in for the sequel. But if you just want to immerse yourself in that cozy Full House vibe again, Fuller House seems to do a pretty impressive job of updating it for 2016.
As we already know, the one member of the original Tanner household not expected to return is Michelle, who was played by Mary-Kate and Ashley Olsen. The former child stars have long since ditched acting for high-end fashion design, and have declined to even make a cameo appearance on the sequel series. However, Cameron Bure reiterates that "the door's open" for the Olsens if they ever change their minds. "We make reference to them on the show, though, so they're not forgotten," she added.
If the Olsens do come back, it won't be in season one, which has already finished shooting. While Netflix has yet to confirm any additional seasons of the show, the cast remains hopeful, declaring that "of course" they'd like to be back for season two. And if Fuller House takes off the way its predecessor did, who knows — maybe the cast's own kids will revive the franchise again in the future. "What if they grow up and do an Even Fuller House?" joked Ellen DeGeneres.
Fuller House hits Netflix February 26.