Cool Stuff: 'Silence Of The Lambs' Gets A Gorgeous Print From Grey Matter Art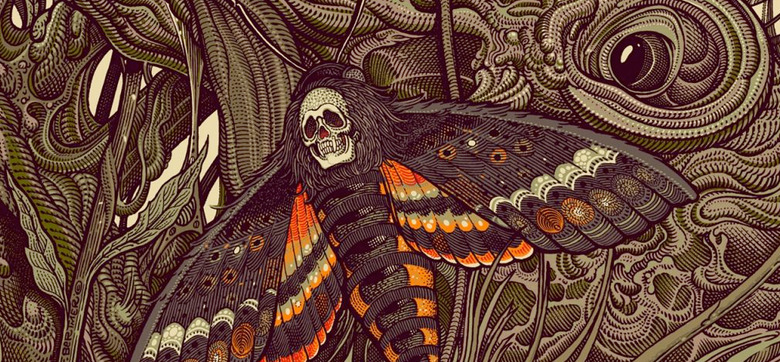 Plenty of blockbusters and classic sci-fi movies have gotten the collectible artwork treatment from Mondo, Gallery 1988 and more, but the modern classic Silence of the Lambs has rarely been afforded such a tribute. Previously, Mondo had Caesar Moreno create a couple of pieces, and Ken Taylor crafted one a little while back as well. But now it's Grey Matter Art showing some love for the Best Picture winner from 1991 with a gorgeous new print (and variant) from artist Florian Bertmer.
Check out the Silence of the Lambs print after the jump.
Here's both the regular (left) and the variant Silence of the Lambs prints (via Birth.Death.Movies):
This is quite the intricate and twisted piece of art, and it doesn't even use any of the obvious imagery you might expect when paying tribute to Silence of the Lambs. The creepy moth makes an appearance, but that's about it as far as iconic imagery from the film. This is exactly the kind of movie artwork you can hang in your house and not look tacky, and those can be hard to find.
Both are 24" x 36" screen prints with the regular version having an edition of 140, costing $50, and the variant version having an edition of 70, costing $65. If you want to get your hands on one of them, you'll want to head over to Grey Matter Art's shop page sometime this Wednesday, February 10th between 1pm and 2pm ET. If you want to know right when it goes on sale, we'd recommend staying tuned to the Grey Matter Art Twitter feed as well.