Matt Damon Calls 'Jason Bourne' The "Completion Of This Journey"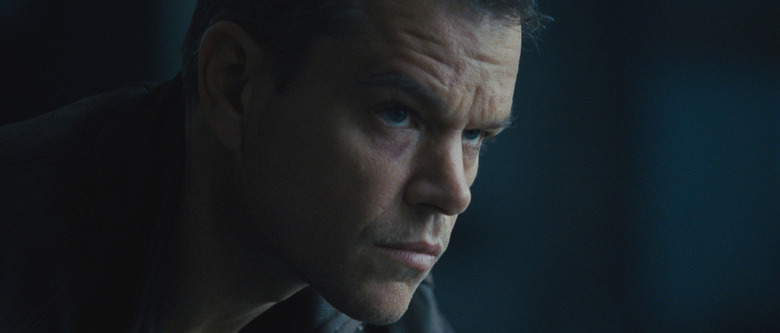 Jason Bourne (Matt Damon) swimming away to the sounds of Moby's "Extreme Ways" was a fitting farewell for the tortured operative. The Bourne Ultimatum was a completely satisfying conclusion, but almost a decade after its release, we're going on another adventure with Bourne. What kind of conflict will he be grappling with this time? In a recent interview, Damon dropped some big clues about where we'll find our hero in Jason Bourne.
Just because Jason Bourne found out who he is doesn't mean his story is over. His life is going to be far from peachy after the events of Bourne trilogy. In an interview with Entertainment Weekly, Damon explained what's driving Bourne in this sequel:
He's living with the same things as he was before, and then he goes to find Julia Stiles' character, who basically says, "Just because you remember everything, doesn't mean you know everything." So you find him in a place that's dark and unresolved.
This is the completion of this journey that started in the Bourne Identity. It's part of the first three [movies], it's not a whole new chapter. It feels like the conclusion, even though we're not saying it's the conclusion, it feels like the conclusion of my identity journey. It goes deeper than Ultimatum, basically.
Damon labeling director Paul Greengrass' sequel a "conclusion" makes us wonder if this might be the actor's last time playing the character. He was initially hesitant returning to the role, saying he wouldn't do it without Greengrass and a script work making.
In Jason Bourne, a top-notch supporting cast once again surrounds Damon, including Alicia Vikander and Tommy Lee Jones. Damon commented on their roles in the film:
You have to do something great and new, and Alicia is our great and new. She plays a new character we're introducing, and she's a specialist in cyber. Instead of just the three arenas of warfare — air, land and sea — there's now this fourth element: cyber. The implications of that are huge, and she's representing that in the movie. We also have Tommy Lee Jones in the movie, and he's kind of representing the analog CIA in the way the old guard thinks. Those two go head to head quite a bit. Introducing those two new characters, I think, is probably one of the biggest trailblazing things we've done in this movie.
The Bourne movie have always felt current, so it's nice to hear from Damon that Greengrass and all involved are interested in staying relevant and have something to actually say with this installment. A little commentary should go down nicely with Jason Bourne tearing up Las Vegas.
Jason Bourne opens in theaters July 29th.