Syfy Renews 'The Magicians' For Season 2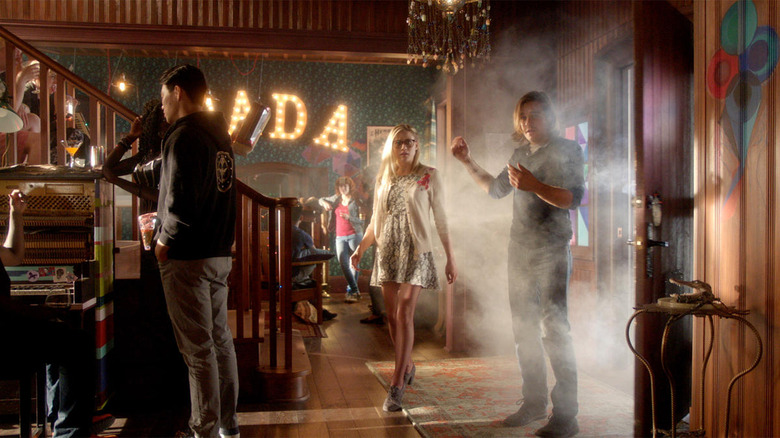 Our studies at Brakebills will continue for another year. The cable network has just renewed The Magicians for a second season, just three episodes into its first season. Frequently described as "Harry Potter for grown-ups," the fantasy drama follows a group of graduate students attending the Brakebills College for Magical Pedagogy in upstate New York. 
Syfy announced the Magicians renewal in a statement today. "Thanks to an extraordinarily gifted creative team of executive producers and our partners at Universal Cable Productions, 'The Magicians' has become a buzzed-about hit, enchanting fans of the novels as well as attracting new and younger audiences to Syfy," said Dave Howe, president of Syfy and Chiller.
The second season will consist of 13 episodes to debut on an as-yet-undetermined date in 2017. Season 1 also consists of 13 episodes. The Magicians unveiled its first episode back in December as a special preview, and then returned to Syfy in January to resume the rest of its season. The show airs Monday nights at 9/8c on Syfy. Tonight's episode will be number four.
Based on the bestselling novels by Lev Grossman, The Magicians follows a brilliant but depressed young man named Quentin (Jason Ralph), who's long been obsessed with a series of children's fantasy novels known as Fillory and Further. (Think Chronicles of Narnia.) As his college career winds down, he's recruited into Brakebills' top-secret graduate program. There, he trains to become a magician and discovers that the world of Fillory is very real.
The Magicians got off to a solid start at Syfy, earning decent (though not great) ratings and attracting mostly positive (though not glowing) reviews. But it's hardly unusual for a freshman series to take some time to find its footing, and The Magicians looks like it's got plenty of potential. As showrunner Sera Gamble told /Film, the first season roughly corresponds to Grossman's first book, and there are three books in all — plenty of source material, in other words, to sustain another few seasons of TV.