'Keanu' Green-Band Trailer: Key And Peele's Cat Video Is Now SFW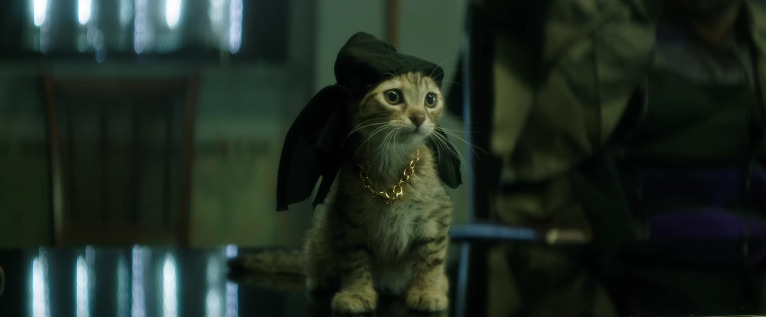 With last month's red-band trailer, Keegan-Michael Key and Jordan Peele's Keanu went from an unknown quantity to one of our most anticipated comedies of the year. In part, this was because Keanu looks like nothing so much as a feature-length version of a Key and Peele sketch: original and hilarious and brilliantly insightful about society's expectations of black men. But mostly, if we're being totally honest, it was because of that cat. Just look at those fuzzy little paws and those big wide eyes. How can you not fall in love with him?
Well, maybe if you didn't get to see the first trailer because it was NSFW. Fortunately, for those who've yet to succumb to Keanu's charms, a new green-band trailer has just arrived. Now the whole family can get together to coo over this pint-sized bundle of sheer cute. Watch the Keanu green-band trailer after the jump. 
Admittedly, the Keanu green-band trailer isn't all that different from the red-band one. The basic structure is still intact; it's just that some of the edgier jokes have been swapped out for safer ones. But it's still funny and cute, and probably just the thing to help ease your post-Super Bowl hangover on a Monday.
Keegan-Michael Key and Jordan Peele, a.k.a. the hugely popular comedy duo Key & Peele, star as Clarence and Rell, two cousins who live in the city but are far from streetwise. When Rell's beloved kitten, Keanu, is catnapped, the hopelessly straight-laced pair must impersonate ruthless killers in order to infiltrate a street gang and retrieve the purloined feline. But the incredibly adorable kitten becomes so coveted that the fight over his custody creates a gang war, forcing our two unwitting heroes to take the law into their own hands.
Peter Atencio (Key and Peele) directed Keanu, which also stars Tiffany Haddish, Method Man, Jason Mitchell, Luis Guzman, Nia Long, and Will Forte. Keanu will trot into theaters all adorable-like on April 29.