'Daredevil' Season 2 Teaser: The Punisher Is Here To Interrupt Your Chinese New Year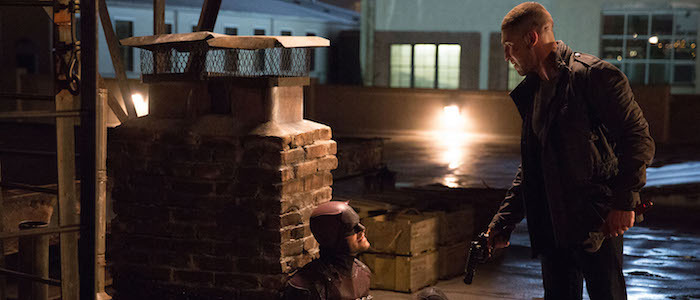 Today marks the start of the Chinese New Year, so you know what that means: a new Daredevil season 2 teaser! Well, that's seemingly what went through the heads of the marketing people at Netflix, who decided that cross-section of people who celebrate this holiday and binge-watch Marvel superhero shows must be large enough to warrant a special teaser trailer. There's not too much going on here, but it does feature a brief vocal cameo from Jon Bernthal's Frank Castle (otherwise known as the Punisher), so you already know whether or not you want to click play on the video below.
The teaser is one of those pieces of advertising that manages to get away with not containing a single second of new footage. You just get Charlie Cox's Daredevil standing on a rooftop in front of some red paper lanterns (because of Chinese New Year, you see) while some ominous voiceover plays in the background. And then you get a single word of dialogue from Bernthal. However, it is the exact kind of word you've expect from from an armed and deadly assassin who doesn't think twice about murdering his enemies in cold blood.
Everyone has a debt to pay. Have you paid yours? Happy Chinese New Year from Hell's Kitchen.https://t.co/EiqfyMRSg4

— Daredevil (@Daredevil) February 7, 2016
The lack of a full and proper trailer for the new season of Daredevil isn't that surprising. After all, they've yet to release a real preview for season four of House of Cards and that drops a few weeks before the devil of Hell's Kitchen makes his grand return. It makes a certain amount of sense – they know that everyone is going to watch Daredevil no matter what and that internet buzz is going to do all of the heavy lifting for them, so why even waste any additional time and energy to raise hype when the hype is pretty much constant? They could drop the entire season tomorrow and everyone would still press pause on their lives to power through the whole thing just so they can talk about it and/or complain about it as soon as humanly possible.
Daredevil season 2 will drop on Netflix on March 18, 2016. In addition to Cox's Matt Murdock and Jon Bernthal's Frank Castle, the new season will also feature Elodie Yung as Elektra, Matt's former lover-turned-ninja-assassin and one of the most important characters in Daredevil comic book lore. Because we love you and want you to be happy, we'll be bingeing it right alongside you and bringing you all the coverage you could want for the following Monday.