'10 Cloverfield Lane' Super Bowl Spot: Hear It Roar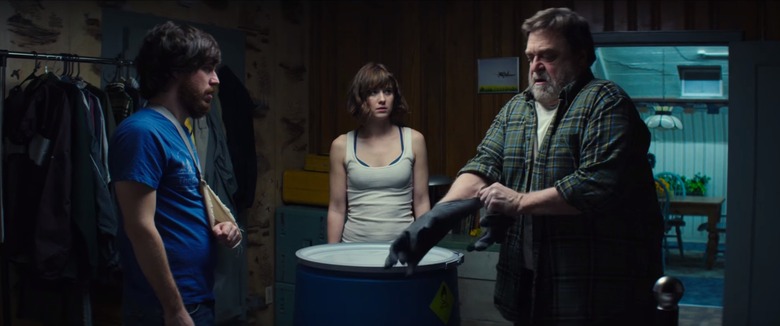 Last month, Bad Robot cracked open a mystery box we didn't even know existed. The first teaser trailer for 10 Cloverfield Lane would've looked promising under any circumstance, what with its vaguely creepy premise and stellar cast (John Goodman, Mary Elizabeth Winstead, and John Gallagher Jr.). But the title added an extra layer of intrigue. Was this the Cloverfield sequel fans had been waiting for? If not, what connection, if any, could the new film have to Cloverfield?
We'll have our answers sooner rather than later, as 10 Cloverfield Lane is scheduled to hit theaters in a little over a month. But in the meantime, Paramount devoted some (very expensive) time during the Super Bowl to give curious audiences some more material to mull over. Watch the new 10 Cloverfield Lane Super Bowl spot after the jump. 
Comparing monster sound in 10 Cloverfield Lane with the original Cloverfield. We have a match! pic.twitter.com/go1vNynxZY

— Dan Milano (@DanMilanoHere) February 7, 2016


10 Cloverfield Lane follows a young woman (Winstead) who wakes up from a car accident to find herself in an underground bunker. The man who took her in (Goodman) claims to have saved her from a chemical attack that has left the outside world uninhabitable. "It's so much about just the actors interacting with each other and that tension that builds, just all wondering if they are who they say the are, if they're telling the truth or not, and really wondering what's outside," said Winstead.
Producer J.J. Abrams has described 10 Cloverfield Lane as a "blood relative" of Cloverfield. While it's unclear what exactly that means, early reports suggest it's not a direct sequel to Cloverfield. Instead, the title could just be a reference to the overall tone or vibe of the movie. In any case, there are plenty of viral marketing tidbits for fans to pick apart. That's the fun of the mystery box, after all — it's not just that Bad Robot purposely keeps details under wraps, but that they know how to dole out just enough information to get people talking.
10 Cloverfield Lane opens March 11, 2016.