The Lonely Island Will Give 'SNL' Some Competition With A New Sketch Comedy Series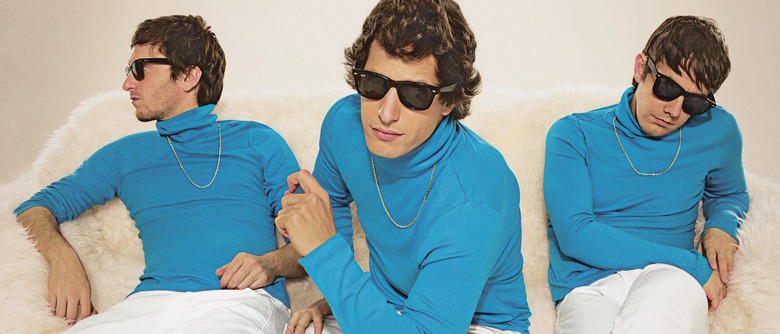 For a long time now, the sketch comedy staple Saturday Night Live has been the only show to tackle late-night programming on a Saturday night. But Fox is about to change the game a bit since they've brought in some SNL veterans to create their own sketch comedy show that will also air late on Saturday nights.
Party Over Here is a new sketch comedy series from The Lonely Island, the SNL Digital Short creators and rap parody group formed by Saturday Night Live writers/performers Andy Sambeg, Akiva Schaffer and Jorma Taccone. That's right, the guys who brought you "Jizz in My Pants" and "Dick in a Box" are getting their own sketch show. Find out more about The Lonely Island TV show below!
Variety has word on the show that also counts comedian Paul Scheer, of the podcast "How Did This Get Made" and TV shows like The League and Human Giant, as an executive producer. The show will feature sketches that will tackle anything and everything, from politics to pop culture. Unlike SNL, the show won't be live, but it will be recorded in front of a live audience at the Alexandria Hotel in Los Angeles. This sounds like Fox's attempt to get another Mad TV kind of show off the ground.
However, even though The Lonely Island is behind the series, they won't be the stars. Instead the series will feature Nicole Byer (Girl Code), Jessica McKenna (Riot) and Alison Rich (Resident Advisors). After all, Samberg has a pretty full plate starring on Brooklyn Nine-Nine at Fox so he hardly has time to star in a new series at the network.
Always happy to make a joke, The Lonely Island made a joint statement saying, "When we first conceived this idea, we thought of it as a spinoff of Empire. We failed miserably... now it's much more of a sketch comedy show." An Empire spin-off with Samberg, Schaffer and Taccone sounds like it would be comedy gold, so I don't know why we're not making that happen, but whatever.
Besides what The Lonely Island did to help reinvigorate SNL with their digital shorts, they've also been responsible for some hilarious but underperforming films. Akiva Shaffer directed Hot Rod, starring Andy Samberg and Jorma Taccone, as well as The Watch, a movie that I'll defend pretty adamantly. And Taccone wrote and directed MacGruber, based on the SNL sketch of the same name. They've also got their own movie coming this summer as well.
I'm not entirely sure what to expect from this series, but I have immense respect for the talent involved, and it would be nice to have another sketch comedy show take of on TV. Taking on SNL seems like a tall order, but they're not exactly going head-to-head, both can co-exist on network television where Saturday night is a barren wasteland otherwise.