James Franco To Direct Zola Movie, Based On Viral Twitter Epic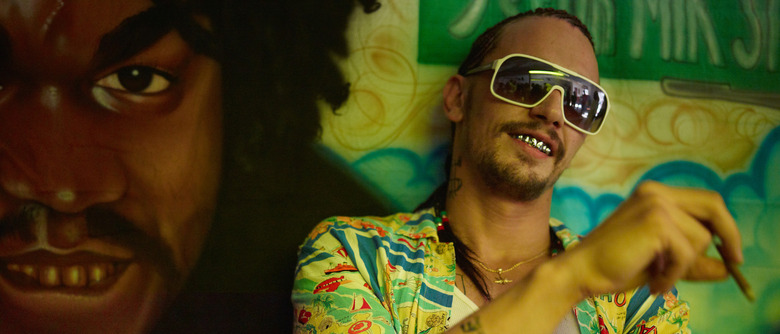 For a few days last fall, the big watercooler pop culture event wasn't yet another premium cable antihero drama or $200 million superhero blockbuster, but a 148-tweet epic of a stripper's Florida road trip gone dramatically awry. The true-ish tale of Aziah "Zola" Wells followed two sex workers, a violent pimp, and a very sad boyfriend through a drug- and sex-fueled odyssey that eventually involved betrayal, kidnapping, a suicide attempt, and even a murder.
Naturally, the story immediately won over the internet and had fans clamoring for a movie adaptation, and now it's actually getting one. From director James Franco, of course, because if a feature film based on a sordid Twitter rant doesn't sound right up Franco's alley, what does? 
Variety reports Franco, Andrew Neel, and Killer Films are developing the Zola movie, with Franco planning to direct from a script by Neel and Mike Roberts. Franco will also produce with Vince Jolivette, Killer Films' Christine Vachon and David Hinojosa, and Gigi Films' Gia Walsh and Kara Baker. The project will be based on David Kushner's Rolling Stone story "Zola Tells All: The Real Story Behind the Greatest Stripper Saga Ever Tweeted."
Zola's Twitter epic, which you can read here, promises to tell "a story about why me and this bitch here fell out" and begins, "Okay listen up. This story long. So I met this white bitch at Hooters..." Over the next 100+ tweets, she weaves a story about going down to Florida with a fellow stripper named Jessica, Jessica's boyfriend Jarrett, and Jessica's pimp Z. It reads, as Kushner put it, "like Spring Breakers meets Pulp Fiction, as told by Nicki Minaj."
The story made Zola an internet sensation and won her lots of high-profile fans, including Selma director Ava DuVernay.
And of course, it took about five seconds for the internet to begin fantasy-casting the roles of Zola, Jessica, Jarrett, and Z. No casting has been announced for the movie, so there's still time to weigh in with your two cents.
Margot Robbie – Jessica
Ving Rames- Z
Olivia Pope- Zola
Jake Gyllenhall – Jarrett pic.twitter.com/lQTu66bVPP

— McGordy (@ThatDudeMCFLY) October 28, 2015
Kushner's article purports to tell the true story behind Zola's Twitter rant, fact-checking some of the more fanciful turns and adding new details. (Like the fact that the real-life Z, Akporode "Rudy" Uwedjojevwe, was eventually arrested and charged with sexual assault, sex trafficking, battery, attempted pandering, and felony in Nevada.) There's no mention of whether Zola herself will be involved in any capacity.
Franco's directing credits include the William Faulkner adaptations As I Lay Dying and The Sound and the Fury, and the upcoming In Dubious Battle and Zeroville. He's currently directing and starring in The Disaster Artist, based on actor Greg Sestero's account of making Tommy Wiseau's infamously terrible The Room. He's got a taste for offbeat projects — the other items on his to-do list include a Mother, May I Sleep With Danger? remake for Lifetime.