'Orange Is The New Black' Renewed For Three Seasons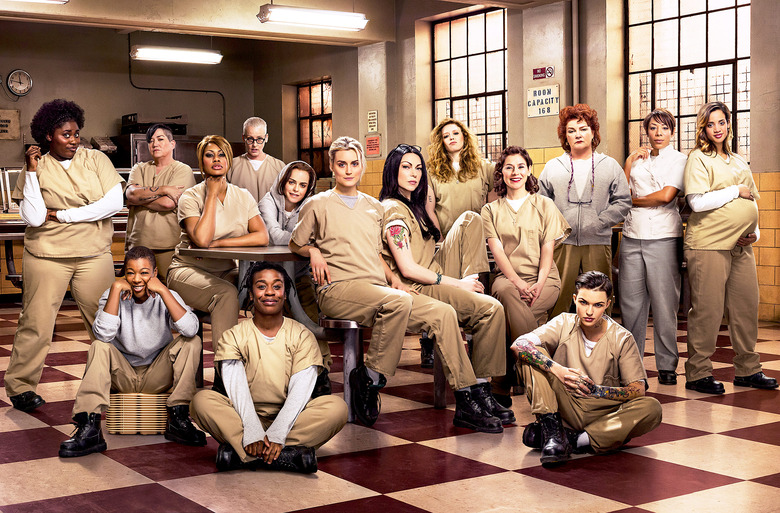 Our stay at Litchfield just got a lot longer. The streaming service announced today that its flagship series Orange Is the New Black has been renewed for three more seasons, ahead of its season 4 premiere on June 17. "You've got time," indeed.
Netflix hasn't announced release dates for seasons five, six, and seven, but assuming Orange Is the New Black continues to put out one season per year, the renewal takes us all the way through summer 2019. As part of the Orange Is the New Black renewal deal, showrunner Jenji Kohan has committed to staying on through season 7.
Not that Kohan seems to mind, based on her gushing statement:
Three more years! Not quite a political term, but still plenty of time to do some interesting things. In some cultures, 'May you lead an interesting life,' is a curse, but I don't live in those cultures. Here's to keeping it interesting. Thanks Netflix! Both thanks and you're welcome Lionsgate! And kudos and gratitude to the stellar cast and crew and writers and producers and editors and musicians and mixers and shleppers... with whom I have the pride and honor of crafting this show. Three more years! Three more years!
It's not unheard of for Netflix to think more than one season ahead. House of Cards, Unbreakable Kimmy Schmidt, and the upcoming Love all started out with two-season orders. However, Orange Is the New Black is the first Netflix series to snag a three-season order.
Orange Is the New Black is Netflix's most-watched original series, as confirmed by execs and backed up by outside research companies, though exact viewership numbers — like viewership numbers for all of Netflix's shows — remain under lock and key. It's also one of the service's most acclaimed series, earning four SAG Awards (including two last week) and four Emmys.