Hasbro And Mattel In Talks To Merge? What Could This Mean For Movies?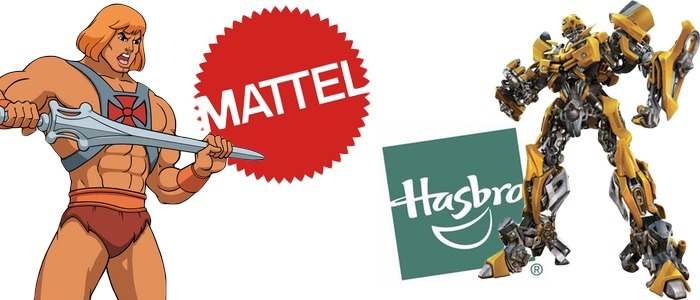 Hasbro and Mattel, two of the biggest toy companies in the world, are reportedly in talks to possibly merge into one mega toy company. But what might this mean for there future of movies?
The report of merger talks comes thanks to Bloomberg Business:
Hasbro approached Mattel about a potential transaction late last year, and the companies have held on-and-off-again talks about a deal, the people said, asking not to be identified as the situation isn't public. Details of how a transaction might be structured couldn't immediately be learned. The talks may not lead to a deal, the people said.
This isn't the first time the companies have tried to merge. Decades ago, Mattel apparently made a $5.2 billion offer that was turned down by Hasbro. Not only do these two toy companies make the action figures, dolls and playsets for many major film releases, but they own big IPs that have been and are being developed into big-budget theatrical motion pictures.
As you probably know, Hasbro has a studio development division which is focused solely on turning their toy properties into movies and TV shows. Over the last decade, Hasbro has been able to bring Transformers, G.I. Joe, Battleship, Ouija and Jem and the Holograms to the big screen. While some of those films were big enough to spawn sequels and franchises, others were box office disasters.
But the successes have been huge and the company is currently in development on Ouija 2; a My Little Pony animated movie at Lionsgate; Transformers 5; G.I. Joe 3; a movie version of the board game Hungry Hungry Hippos; an animated adaptation of the Tonka brand at Sony and Happy Madison; a movie based on the card game Magic: The Gathering; a Play-Doh movie at 20th Century Fox; and Beyblade at Paramount. Plus, Lionsgate is still working on a movie version of the board game Monopoly, and Warner Bros wants to bring Dungeons & Dragons to the big screen.
With the success of Transformers, Mattel has been trying to follow Hasbro's lead. The company is currently in talks with McG to bring He-Man and Masters of the Universe to the big screen. In addition, Alex Kurtzman and Roberto Orci were developing an action-adventure fantasy film project based on the ViewMaster glasses for DreamWorks. An action comedy based on the Magic 8-Ball was also in development, as were a film based on the moon-worker astronaut figure Major Matt Mason which once had Graham Yost and Tom Hanks attached; and action film based on the Hot Wheels brand at Legendary Pictures with Big Hero 6 writer Jordan Roberts.
So far Mattel's big screen projects haven't really panned out, but they have a ton of brands to exploit including Barbie, Monster High, Fisher Price, Max Steel, American Girl, Mega Blocks and more. Mattel recently lost their $500 million product line of Disney Princess dolls to Hasbro, which was a huge loss of a brand they had for many years. If the two companies merge, I'm betting we'll see a more aggressive approach to adaptation Mattel's brands for the big screen.