Jason Patric Will Star In 'Wayward Pines' Season 2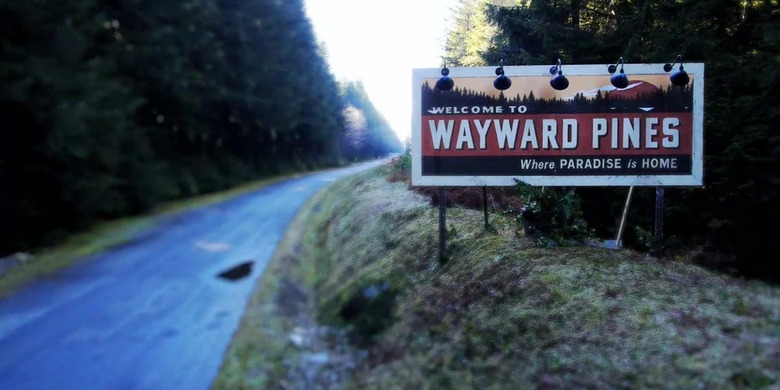 Last year was a bit of a comeback for M. Night Shyamalan. The director of The Sixth Sense and The Lady in the Water scored some points with audiences and critics with The Visit and Wayward Pines. The latter, ran by Chris Hodge, ran for 10 episodes on Fox and starred Matt Dillon, Shannyn Sossamon, and more. Much of the original cast will not return for Wayward Pines season 2, but it's just been confirmed Jason Patric will headline the next season.
Apparently season one took so long to make the options to bring certain actors back have expired. Shyamalan and all involved structured Wayward Pines as a 10-episode arc, though, with a beginning, middle, and ending, not as a program with the door left wide-open for a second chapter.
Here's what Shyamalan had to say about a potential season two:
The one thing I'm fearful of television is its open-ended nature. I'm such an end backwards kind of filmmaker, storyteller, and that's what I loved about doing these 10 episodes. I knew where I wanted to go. I knew I wanted the fences to come down. I knew where we were heading for the finale and so we could architecture the 10-episodes in that manner. So, I am happy to walk away, especially with such a wonderful reaction and all that stuff. But honestly, Blake and I do have an idea.
I didn't finish season one, so I'm not sure which cast members made it out of Wayward Pines alive. Deadline says Patric will be playing Dr. Theo Yedlin, "a confident, driven surgeon whose leadership skills will prove invaluable." Yeldin awakes in Wayward Pines, amidst the middle of a rebellion. The show is scheduled to return this summer.
Here's the official synopsis for season one:
Secret Service Agent Ethan Burke (Matt Dillon) drives to the bucolic town of Wayward Pines, ID, searching for two missing federal agents. Ethan is the logical choice for the mission. He's one of the best Secret Service agents in the Seattle office. He's also the man who knew missing agent Kate Hewson (Carla Gugino) better than anyone. They were partners. They were more than that. Their relationship nearly destroyed Ethan's marriage.
Everything changes when a truck slams into his car...and he wakes up in the Wayward Pines Hospital, with the intense and unpredictable Nurse Pam (Melissa Leo) at his bedside. It soon appears that Pam may be more interested in harming than healing. She and Ethan grow into deadly rivals, and her role in the town proves much deeper than anyone realizes.
As the mysteries within the town pile up and clash with his own version of recent events, Ethan starts to question his own sanity. He is confronted by the mysterious and charismatic Dr. Jenkins (Toby Jones), the psychiatrist who treats him at Wayward Pines Hospital. As he begins to meet some of the local residents, including toymaker Harold Ballinger (Reed Diamond), Ethan forms a bond with Beverly (Juliette Lewis), a bartender who doesn't mince words and is as wary of Wayward Pines as he is.
Back home in Seattle, Ethan's wife, Theresa Burke (Shannyn Sossamon), a former Secret Service Agent trainee, gets a call from Ethan's boss, Adam Hassler (Tim Griffin). He informs her that early testing shows Ethan was never in the car that was recovered on the side of the road outside of Wayward Pines. They're still investigating. But this isn't enough for Theresa. Along with their teenage son, Ben (Charlie Tahan), Theresa sets out on her own search for Ethan.
Meanwhile, Ethan is challenged at every turn by the town's die-hard residents and especially the town's sheriff, Sheriff Arnold Pope (Terrence Howard), who takes offense at a Secret Service agent showing up on his turf and telling him what to do. Ethan believes Pope is out of his mind, and visa versa. Ethan's continuing investigation only turns up more and more questions, and each one leads him to the most important question of all: What's wrong with Wayward Pines?