'Brooklyn' Is Getting A TV Spinoff; Julie Walters To Return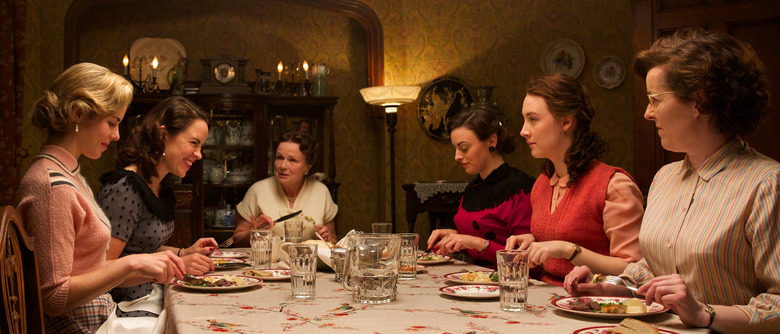 It seems like every day we get news of yet another TV series based on yet another hit movie. Not all of them pan out so well (remember when they tried and failed to make a Beverly Hills Cop show?) but that doesn't seem to discourage TV execs from continuing to try. Why, just in the past week, we've reported on developing shows inspired by pictures as varied as Cruel Intentions, Taken, and The Exorcist.
Even so, this latest film-to-TV project may come as a bit of a surprise. The BBC is working on a new drama adapted from Brooklyn, the Sundance smash turned Oscar nominee. But it won't pick up with Saoirse Ronan's main character. Instead, it'll revolve around Mrs. Keogh, the shrewd boarding house matriarch played by Julie Walters. More about the Brooklyn TV series after the jump. 
Screen International got the scoop on the Brooklyn spinoff. The as-yet-untitled drama is in early development at the BBC. Wildgaze Films (which was also behind the original movie) is producing. Walters is set to reprise her role as the indelible Mrs. Keogh. The show will reportedly follow the same group of Irish, English, and American girls in her care, though Ronan is not expected to return.
Directed by John Crowley and based on the novel by Colm Toíbín, Brooklyn follows a young Irish woman named Eilis Lacey (Ronan) who emigrates to America in the 1950s to start a new life. One of her first stops is a boarding house for young women run by Walter's Mrs. Keogh. The landlady quickly takes a shine to Eilis, and the other girls living there help her adjust to this strange new country.
Sweet, subdued, and small, Brooklyn may not seem like the most obvious choice for a TV adaptation. But it's not too difficult to imagine how a show about Mrs. Keogh could work. Though her screen time was limited, Walters made a huge impression. The boarding house scenes were some of the best, and funniest, in the movie. Take a look at this dinner conversation, which devolves into speculation about God's skincare routine:
Wildgaze's Finola Dwyer confirmed plans for a Brooklyn TV series. "I suggested the idea to Colm quite early on, before there was even a first draft for the film," she revealed. "We're talking to writers now and have a couple in our sights." However, it may be a while before the series really gets moving. Dwyer said a timeline for the project would not be set until after Brooklyn completes its theatrical run and home video rollout.
Brooklyn is up for three Oscars this year: Best Picture, Best Actress for Ronan, and Best Adapted Screenplay for Nick Hornby.