'Eddie The Eagle' Super Bowl Spot: Football Stars Vouch For The Inspiring Sports Tale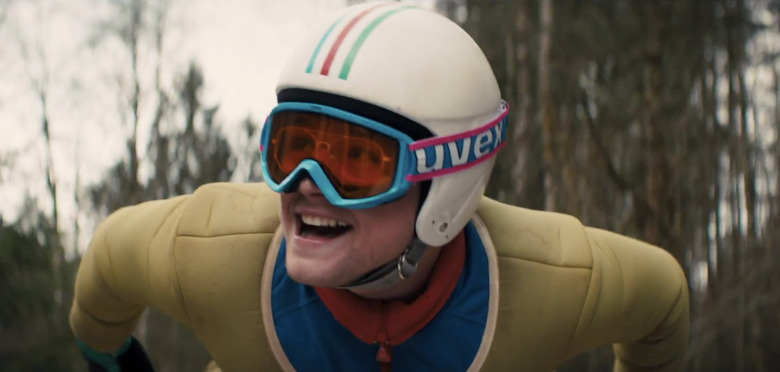 This weekend brings Super Bowl 50, and just as with every Super Bowl before it, advertisers will be pulling out all the stops to spend big bucks on commercials that millions will see. Even though there will be more than just hardcore sports fans watching, advertisers still know their audience. That's why a new tease for the inspiring sports drama Eddie the Eagle, starring Kingsman: The Secret Service breakout actor Taron Egerton and Hugh Jackman, uses respected football players who caught an advance screening of the movie to help hype it up to the masses.
Watch the Eddie the Eagle Super Bowl spot after the jump.
The film recently had an advanced screening at the Sundance Film Festival, and the buzz on the movie has been pretty great so far. Olly Richards over at Empire says, "Eddie The Eagle turns a long-running joke of British sport into a crowd-pleasing story of inspiration. It's a solid gold winner." Andrew Barker at Variety. is a little less positive, but still says, "Never quite nailing the off-kilter vibe it sporadically seems to seek, but functioning reasonably well as a quirkily inspirational shaggy-dog biopic."
Just going by the previous trailer, this looks like it's going to be your standard, inspiring sports tale. And the comparisons to Remembers the Titans and Rudy by these football players seems to affirm that. As someone who's not the biggest sports fan, I still fall in love with these kind of movies. This one is made even sweeter by the fact that Christopher Walken is in it as well. There's no word on whether or not he dances in this movie, but it still sounds like it's worth a trip to theaters late next month.
Inspired by true events, Eddie the Eagle is a feel-good story about Michael "Eddie" Edwards (Taron Egerton), an unlikely but courageous British ski-jumper who never stopped believing in himself – even as an entire nation was counting him out. With the help of a rebellious and charismatic coach (played by Hugh Jackman), Eddie takes on the establishment and wins the hearts of sports fans around the world by making an improbable and historic showing at the 1988 Calgary Winter Olympics. From producers of Kingsman: The Secret Service, Eddie the Eagle stars Taron Egerton as Eddie, the loveable underdog with a never say die attitude.
Eddie the Eagle arrives on February 26.