'Demolition' Trailer: Jake Gyllenhaal Just Wants Some Peanut M&Ms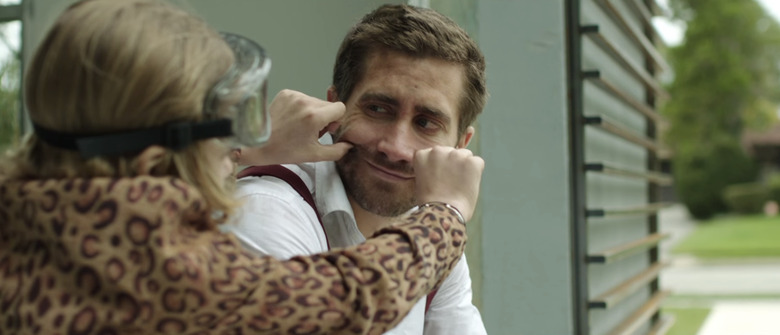 How do you mourn the death of a spouse you never really loved, who represented a life that you never really wanted? If you're like Davis, the character played by Jake Gyllenhaal in Jean-Marc Vallée's Demolition, you start by writing a series of long, rambly, bizarrely confessional letters to the company behind the vending machine that failed to spit out the peanut M&Ms you paid for.
And because Demolition is an indie dramedy, those letters eventually lead Davis to a sympathetic customer service rep, Karen (Naomi Watts), who, along with her rambunctious son Chris (Judah Lewis), may be just what Davis needs to destroy his life so he can rebuild it again. Demolition is making its way into theaters this spring after debuting at TIFF last year, and you can watch the new trailer after the jump. 
Over the past few years, Gyllenhaal has quietly established himself as one of the finest actors of his generation. We can always count on him to deliver a superb performance, even in films that don't really deserve him. That alone makes Demolition worth a look, whatever else the film has going for or against it. The fact that Watts and Cooper are involved doesn't hurt either, and word out of the festival circuit is that Lewis is a young actor to watch out for.
But the movie itself kind of looks like it could go either way, depending on your tolerance for middle-class malaise and precocious movie kids. Here's the synopsis:
Davis (Jake Gyllenhaal), a successful investment banker, struggles after losing his wife in a tragic car crash. Despite pressure from his father in law Phil (Chris Cooper) to pull it together, Davis continues to unravel. What starts as a complaint letter to a vending machine company turns into a series of letters revealing startling personal admissions. Davis' letters catch the attention of customer service rep Karen (Naomi Watts) and, amidst emotional and financial burdens of her own, the two form an unlikely connection. With the help of Karen and her son Chris (Judah Lewis), Davis starts to rebuild, beginning with the demolition of the life he once knew.
Demolition opens April 8.