Is Steven Soderbergh Un-Retiring?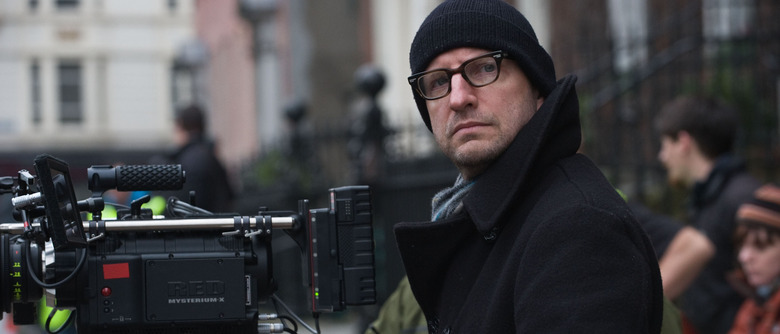 It's been a couple of years now since Steven Soderbergh announced his retirement from movie directing. And although he's kept plenty busy with TV and other projects, he's kept true to his word so far: he hasn't helmed a big-screen feature since 2013's Side Effects. But that may be about to change, depending on whom you believe.
The trades are reporting that Soderbergh is coming out of retirement for a heist pic that would reunite him with his Magic Mike star Channing Tatum. However, Soderbergh has gone on record to deny the whole thing, insisting that the stories are "wrong." 
Let's start with the rumor. Variety, THR, and Deadline are all hearing that Soderbergh is coming out of retirement for a movie starring Tatum. There's some confusion about the title of the film — Variety initially had it as Hillbilly Heist, but later amended it to Lucky Logan, while Deadline believes it's called Logan Lucky. There's also conflicting information about who's involved. Variety first said Matt Damon would co-star, but then recanted that part of the story, while Deadline says Michael Shannon is on board.
For what it's worth, THR describes the project as being "in the vein of Ocean's 11... but with hillbillies," revolving around a heist during a NASCAR-style race. And while Variety and Deadline both claim Soderbergh is directing, THR says it's still unclear whether he'll direct or just produce. No one seems to have any idea who wrote the script. But with the project making the rounds among studios, it shouldn't be too long before more details slip out.
If Soderbergh is only producing, that wouldn't be too surprising. While he hasn't directed a movie since Side Effects, he's had producing credits on Da Sweet Blood of Jesus, Citizenfour, and Magic Mike XXL. He also served as the director of photography on the latter, which was directed by his assistant director on the first Magic Mike, Gregory Jacobs. Soderbergh may have retired from directing movies, but he's remained very much involved in the moviemaking business.
Nevertheless, Soderbergh seems none too pleased about all these rumors flying around. He doesn't get specific about what part of the Variety article is "wrong" — and as we've noted, the publication has updated its story a few times already.
What does seem clear is that there is a movie in the works which involves Soderbergh and Tatum in some capacity. (Unless, I suppose, this is an AbracaDeborah situation and the whole thing is an elaborate joke, in which case, well played.) We'll be keeping an eye on this one and report back as soon as more concrete details begin to emerge.