'Creative Control' Trailer: Augmented Reality Is Our Mundane, Neurotic, Black And White Future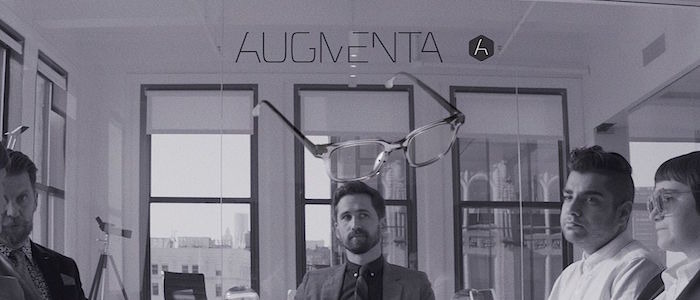 The best thing I can say about Creative Control is that it would make a terrific double feature with Spike Jonze's Her. This near-future slice of quasi-science fiction is a very funny and occasionally chilling look at what happens when the amazing technology within our grasp collides with the fact that human beings are, in general, Big Dumb Selfish Idiots.
Creative Control was snatched up from the 2015 SXSW Film Festival by Amazon Studios and Magnolia and they've just released the first trailer. Put this one on your radar.
This preview plays up the comedic aspects of the film, including a strange supporting performance by Reggie Watts as himself, but the actual film is little more melancholy and a little less manic. It's funny for sure, but writer/director/star Benjamin Dickinson has a lot on his mind and skewers everything from personal relationships to our relationship with technology. This is a mean movie, but everything on the receiving end of its harshness kind of deserves it.
When I reviewed the film last year, I described it as "Black Mirror directed by Woody Allen" and that still sounds about accurate. Creative control is a classical "neurotic New Yorkers stumble through life and love and get a black eye for their efforts" kind of movie, but with a very strict millennial point of view. It's like Manhattan with smartphones and near-future mobile technology, which instantly adds a tinge of horror to the whole thing. Ah, technology: unlocking new and special ways for everyone to be total dicks!
Here is the official synopsis for the film:
The setting is New York, 5 minutes in the future. The glorious technological advances and communication devices of the near future meant to increase connectivity and alleviate boredom are only increasing the anxiety level of the insecure New Yorkers who've inherited them. David (writer/director Benjamin Dickinson) is an overworked, tech-addled advertising executive developing a high-profile marketing campaign for a new generation of Augmented Reality glasses. Feeling stuck in his relationship with yoga teacher Juliette (Nora Zehetner, BRICK, IFC's "Maron"), he envies the charmed life of his best friend, fashion photographer Wim (Dan Gill, THE WEDDING RINGER) and his entrancing girlfriend Sophie (Alexia Rasmussen, CALIFORNIA SOLO) – so he uses the glasses to develop a life-like avatar of her. Unwittingly, fantasy and reality begin to blur. As passions escalate and things get increasingly out of hand, the friends are forced to deal with the impending collision between their public, private and imaginary lives.
Creative Control opens on March 11, 2016. Amazon's involvement means that you will probably be able to stream it soon after that.