Zach Galifianakis, Seth Rogen And Bill Hader Team For Space Comedy 'The Something'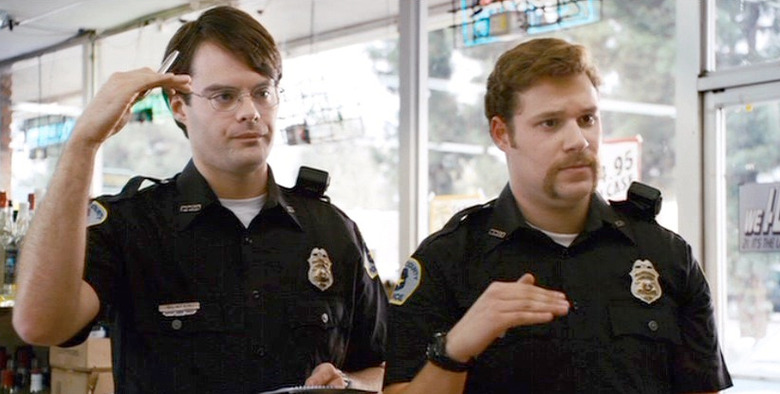 It's been awhile since there has been a straight-up comedy set in space. We're not even going to talk about The Martian for that conversation, and Guardians of the Galaxy wasn't just a comedy. Feel free to offer up some other options in the comments, but I believe the last genuine comedy set in space was The Hitchhiker's Guide to the Galaxy. But that's about to change.
Zach Galifianakis, Seth Rogen and Bill Hader are slated to start in The Something, a comedy that takes place in space, following a group of male astronauts, who, after being stuck in space for years, come upon another ship. Find out more below.THR was the first to report on the Seth Rogen space comedy which has a script from Rodney Rothman, the scribe behind 22 Jump Street and Grudge Match. That's a mixed bag of great comedy and mediocre comedy, so it's hard to tell what we'll get from this one. But the on-screen talent that has signed on seem to indicate that this is a solid script worth paying attention to.
While the logline is vague and rehashes something we've seen countless times in sci-fi movies, approaching it from a comedic angle should prove to bring something fresh to the table. However, I can't help but think that it would be nice to have a woman part of the team. But there's a good chance that the lack of a female astronaut among three stranded male astronauts will be a source of comedy. Plus, the film could also be set at a time when there weren't any female astronauts yet. We're not sure.
Universal is behind the project which will be produced by Rogen along with his longtime collaborator Evan Goldberg as well as their fellow Point Grey Pictures producing partner James Weaver. They'll also be reteaming with Good Universe, who worked with the boys on Neighbors and The Night After.
For my money, I'm excited about anything Bill Hader takes on after seeing how outstanding he was in Trainwreck last year. Rogen has been consistently entertaining for awhile, even if some think his schtick is getting old, so that sweetens the deal. And I'd be very interested in Zach Galifianakis making a hilarious comedy again (in addition to his great FX series Baskets), because it's been a while since I've loved a comedy he's been part of. Here's hoping all this talent comes together to make something hilarious.