Dwayne Johnson Reveals 'Rampage' Details, Proves That He Is The Busiest Human Being Alive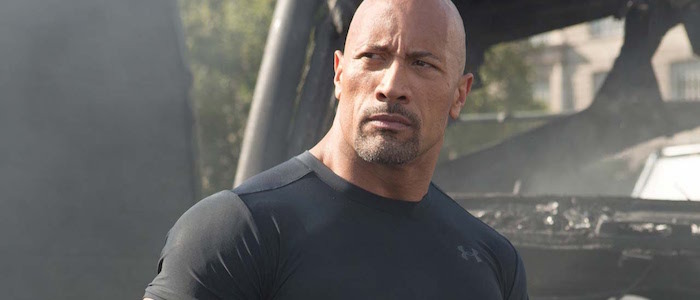 Not liking Dwayne "The Rock" Johnson is a crime punishable by sneers and glares. The infinitely charismatic movie star is one of the most watchable men in modern cinema. Even when he boards a stinker (and he's made his fair share of awful movies), he walks away smelling like roses. He's unsinkable, a buoyant pile of muscle and enthusiasm powered by lots and lots of cod.
So if there's anyone who can get us interested in a film version of the Rampage video game series, it's Johnson, who announced the film's new screenwriters on his Instagram page. As a bonus, he also revealed the schedule for his next year, which seriously, no joke, sounds like it would kill any other human being.
Johnson revealed that Carlton Cuse and Ryan Condal, the creators of the new television show Colony, have been hired to pen a new draft of Rampage. Cuse is perhaps best known for his work on Lost and Bates Motel, but he also wrote San Andreas, the disaster movie where he somehow resisted the temptation to write a scene where the Rock literally punches an earthquake. This officially makes Rampage a San Andreas reunion, since director Brad Peyton and producer Beau Flynn are also on board this project. Although that film isn't particularly good, everyone involved did showcase a sharp eye for massive destruction and a total lack of moral responsibility, so they may be the right people for a Rampage film.
Johnson also posed for a picture with this crew, looking sharp and handsome and cool and making everyone else in the frame look like a big dork. But that's what happens when you share a room with this guy.
That post also contains a few very interesting tidbits about what we can maybe expect Johnson to do in the actual film. After all, there's not much to the Rampage games – you pick a giant monster and stomp a city into dust to earn points – so everyone has plenty of freedom to build whatever story they like here. Since Johnson mentions spending time at the San Diego Wildlife Preserve and hanging out with anti-poaching units in Africa, we can safely assume that he'll be an animal expert called in to take down the creatures going on that titular rampage.
And that brings us to the next question: how is Johnson going to find time to actually make this movie? As he explains in another Instagram post, he's got a game plan. First, he has to finish filming the second season of Ballers. And then he'll move directly into the Baywatch movie with Zac Efron. When that's done, he'll jump over to Fast 8 to reprise the role of Hobbs. By then, Rampage should be ready to go and he'll jump right into that. At some point, he's also going to have to find some time to promote Central Intelligence, his new comedy opening this summer.
2016 breakdown of my shooting schedule (while maintaining relationships and being dad and daddy to the most awesome daughters in the world) and why I'm up at 4am everyday to train (aside from being slightly bat shit crazy). Once we wrap season 2 of #BALLERS (4 weeks left), the next day I'll start shooting our "little" beach movie called #BAYWATCH (literally THE most successful TV intellectual property of all time – so the pressure is on – bring it). After a 12 week #BAYWATCH shoot, I'll go right into shooting #FastAndFurious8. We're a family, and playing the character of HOBBS is one of my greatest joys and I'll make the promise to ya right now: I'm stepping on that set ready to rumble and raise the bar on all levels: The intensity, the tactical gear/weapons and especially that "Hobbs' winking fun". Since Fast & Furious 5, you've made HOBBS the highest testing character for a reason – and we're gonna give new meaning to the catchphrase, "Daddy's gotta go to work." After approximately 12-14 weeks of shooting FF8, I'll transition right into the big one... #RAMPAGE. Before we start shooting I'll spend time at the San Diego Wildlife Preserve as well with Anti-Poaching Units out of Africa. As big and fun as this movie is, the key is grounding it in research and authenticity. The entire team that brought you San Andreas is back and we can't wait to get started on this one. King Kong is just a little monkey compared to what these massive RAMPAGING ANIMALS can do. Now of course the universe can step in at anytime and throw a flag on the play, but as you see there's a method to my madness of 4am wake ups for cardio & training hard – it anchors my day and allows me to 100% focus and prep for these roles – and the irony of this whole thing is all these roles pale in comparison to the most daunting, gratifying and holy shit scary role of all – being a father. But that's for another fun discussion. And I close this long ass post with a question anyone who just trained calves would ask... do I or do I not have gum stuck on the bottom of my shoe? ???? #Method2TheMadness #HardestWorkersInTheRoom #ChaseYourGreatness #AndCheckYourShoesForGum ????????????
A photo posted by therock (@therock) on
Normally, we'd fear for the health and safety and sanity of anyone with this schedule. But this is Dwayne Johnson. Do you see those calves? Those calves are healthier than your entire body.