'Ice Age: Collision Course' Trailer: The Apocalypse Is Coming, And It's All Scrat's Fault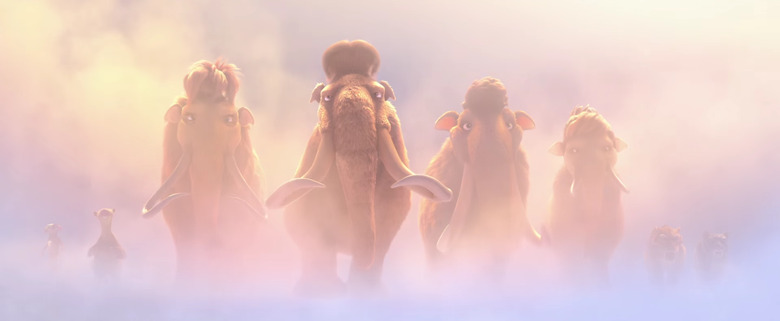 Just as no one could have predicted back in 2001 that The Fast and the Furious would be the start of a box office juggernaut spanning ten installments across two decades, it seems doubtful anyone in 2002 would've guessed Ice Age would spawn a major movie franchise. And yet here we are in 2016, eyeballing a new trailer for the fifth film in the series, Ice Age: Collision Course.
While Ice Age has never been the buzziest of properties, these films are nothing if not reliable. They arrive every three or four years to tepid reviews, and then proceed to absolutely crush it at the box office. The four films so far have grossed a collective $2.8 billion worldwide; only a fool would bet against the fifth one becoming one of this year's big commercial hits. So what do you and the children in your life have to look forward to this summer? Watch the new Ice Age: Collision Course trailer after the jump. 
Ice Age doesn't make much of an effort to appeal to adults, which is probably why these movies aren't surrounded by nearly as much hype as Pixar or Disney's animated features. In fact, the kids who made the first film an out-of-the-box hit have probably outgrown the series by now. But that isn't a problem for Fox, since there's always a new generation of children just waiting to fall in love with these hijinks-prone prehistoric mammals.
The series' other saving grace is that while it might not go out of its way to appeal to adults, it does nothing to repel them, either. Sure, the storyline seems muddled and the jokes are kind of half-assed. But if Ice Age doesn't exactly compare to top-shelf Pixar, at least it doesn't look as dire as, say, DreamWorks' Trolls. When you're a parent who has a full year of repeat viewings in theaters and on VOD / DVD to look forward to, that counts for a lot. (Or so I hear from my friends with kids.)
Besides, that's some damn beautiful animation — you can really see every individual strand of fur on those woolly mammoths. And that voice cast is impeccable. In addition to returning cast members Ray Romano, John Leguizamo, Denis Leary, Queen Latifah, Sean William Scott, Josh Peck, Jennifer Lopez, Chris Wedge, and Simon Pegg, Ice Age: Collision Course brings Jesse Tyler Ferguson, Adam DeVine, Nick Offerman, Max Greenfield, Stephanie Beatriz, Melissa Rauch, and Neil deGrasse Tyson into the fold.
Ice Age: Collision Course arrives July 22, 2016. Here's the synopsis:
Scrat's epic pursuit of the elusive acorn catapults him into the universe where he accidentally sets off a series of cosmic events that transform and threaten the Ice Age World. To save themselves, Sid, Manny, Diego, and the rest of the herd must leave their home and embark on a quest full of comedy and adventure, travelling to exotic new lands and encountering a host of colourful new characters.