'Fast And Furious' 9 And 10 Get Release Dates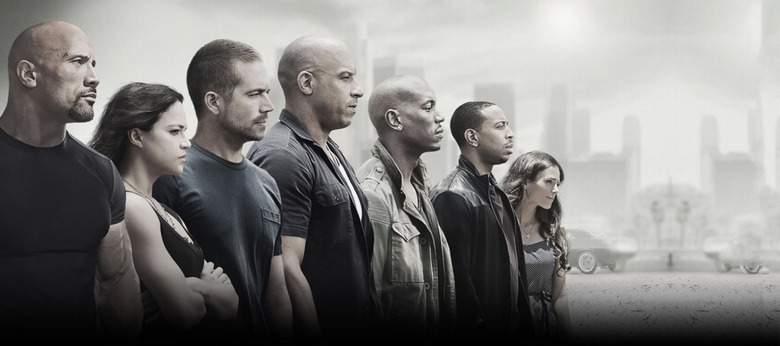 Cars may come and go, but family is forever. And we do mean forever. With Fast 8 already set for 2017, Universal Pictures has just confirmed dates for the next two installments of the Fast and Furious saga. The newly announced movies bring us up to 10 Fast and Furious movies across 20 years. Not bad for a franchise that started out as a less-starry Gone in 60 Seconds and/or a cheesier Point Break ripoff. 
Series star Vin Diesel revealed on Instagram that Fast and Furious 9 will arrive April 19, 2019, followed by Fast and Furious 10 on April 2, 2021.
No other films are set for those dates at this time, and in fact Fast and Furious 10 is now the first title to lock in an exact 2021 release date. (Take that, Marvel and DC!) No other details have been given about the new sequels. We don't know what they'll be titled, or who'll direct them, or even who will star. F. Gary Gray (Straight Outta Compton) is shooting Fast 8 is later this year for release on April 14, 2017.
The first The Fast and the Furious opened in 2001 to mixed reviews but big box office. It grossed $207 million on a budget of $38 million. Still, it's doubtful anyone would've predicted at that point that it'd spark a series still going strong 20 years later. The franchise was already flagging by the time the third installment, The Fast and the Furious: Tokyo Drift opened in 2006. But the next entry, 2009's Fast and Furious, turned things around. And then 2015's Furious 7 became the franchise's biggest smash hit yet, grossing $1.5 billion worldwide.
Fast and Furious 9 and 10 complete the "one last trilogy to end the saga" that Diesel promised last year. However, we wouldn't jump to assume that 10 really spells the end for Dom Toretto and his family. There have been hints that the franchise could continue in the way of spinoffs for characters like Dwayne Johnson's Luke Hobbs or Eva Mendes' Monica Fuentes. In any case, with dates set through 2021, Universal has just bought themselves a few more miles of road to figure it out.