'Guardians Of The Galaxy Vol. 2' Rehearsal Photos Revealed; Which Comedian Has Joined The Cast?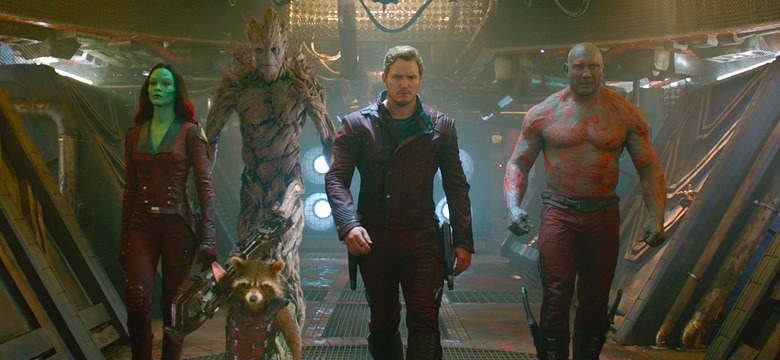 Director James Gunn and the cast of Guardians of the Galaxy are already back at work down in Atlanta, preparing to shoot Guardians of the Galaxy Vol. 2. However, it doesn't look like shooting has begun just yet, because Chris Pratt, Zoe Saldana, Dave Bautista and Michael Rooker are still on the rehearsal stage in some photos that Gunn posted to social media. Check out the photos below along with news of a comedian joining the cast of the sequel.
First up, here's a couple Guardians of the Galaxy 2 photos Gunn posted to his Facebook page over the past few days:
Rooker doesn't look particularly happy, but the rest of the cast seems to be having a good time. In the photo with Saldana, Pratt, Bautista and Sean Gunn (the stand-in for Rocket Raccoon as well as Yondu's right-hand man Kraglin), the director says he was using Bautista as an example of good acting. They might want to pay attention since Bautista stole plenty of scenes from the rest of the cast. Nothing goes over his head. His reflexes are too fast, and he would catch it.
Here's another photo that Gunn posted to Instagram, featuring his trusty dog Von Speers:
Rehearsals for #GotGVol2 with @thejudgegunn, @michael_rooker, & #vonspears.
It looks like Gunn is scolding Rooker, maybe because he looked so grumpy in the above photo. The question is whether or not Von Speers will have a cameo in Guardians of the Galaxy Vol. 2, just as he did in the first film. For those who don't know, Von Speers is the hologram dog that you can see in Peter Quill's little projection map when he's looking for the orb on Morag.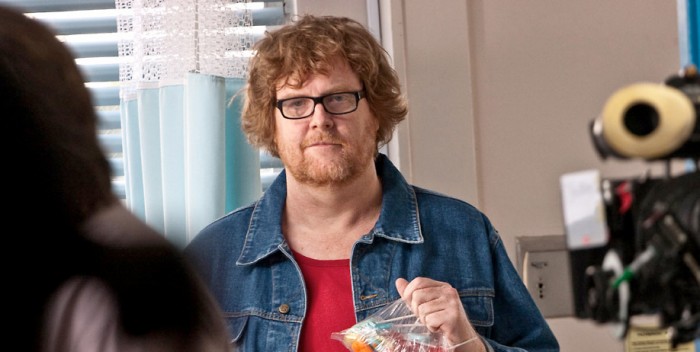 Even though we don't know whether or not Von Speers will show up in the movie, it appears that a fairly well-known comedian has landed a role in the movie. Twitter user and /Film reader @AdamJoseph83 let us know that on a recent episode of the podcast Doug Loves Movies, host Doug Benson revealed that Steve Agee (above) was supposed to be on the show, but couldn't make it because he was traveling to work on Guardians of the Galaxy 2.
If you're not familiar with Steve Agee, you may have recently seen him as Outside Dave on several episodes of New Girl. Or maybe you know him as Steve Myron from The Sarah Silverman Program. He's quite the tall character actor and a rather fantastic stand-up act. It's not hard to imagine him playing some kind of alien in the movie, or even being part of the Ravager crew or something like that, but we don't know what kind of role he'll have in the sequel just yet. That's something we may not find out until we see the movie on May 5, 2017. Stay tuned for anymore updates.