'Mavis' Trailer: Gospel & Soul Legend Mavis Staples Gets Her Own HBO Documentary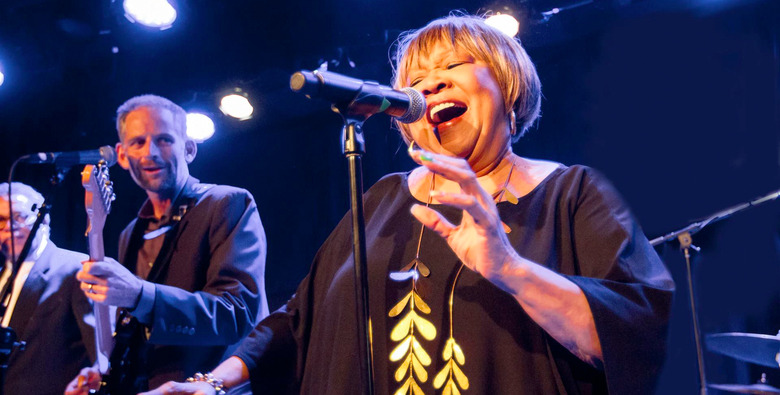 We may receive a commission on purchases made from links.
This year, gospel and soul singing legend Mavis Staples has a new album coming out called "Livin' on a High Note" with songs written by the likes of revered songwriters such as Nick Cave, Justin Vernon, tUnE-yArds, Neko Case, Aloe Blacc, and others. The album will be available in February, just before a new HBO documentary shines a light on the life and career of the woman who not only made waves in music, but also fought for civil rights in the 1960s. The first teaser trailer for the documentary, Mavis, has just arrived, and it looks like a soulful journey through a real icon's life.
Watch the Mavis Staples documentary trailer after the jump!
Using a combination of interviews, archival footage and photos, live performances and more, first time feature documentary director Jessica Edwards offers something for both fans of the Grammy-winner and those who may not be familiar with the woman who is still churning out new music at 75 years old.
Staples has had her albums produced by other music legends such as Prince and Jeff Tweedy, including musical collaborations with the artists, both of whom appear in the documentary coming to HBO next month that Nerdist rather enjoyed according to their review from SXSW last year:
As engaging as it was to absorb the history of the dynamic music that Staples and her family made throughout the course of several decades, the film's most consistently rewarding moments were those spent focusing on Mavis's relationships with the community of musicians that helped her grow spiritually and artistically throughout her life. Fundamentally, this was a film about family.
This sounds like a must-see documentary for any music lover, whether or not you're a fan of Mavis Staples long career. Mavis premieres on HBO on February 29 at 9pm ET/8pm CT.
Mavis! is the first feature documentary on gospel/soul music legend and civil rights icon Mavis Staples and her family group, The Staple Singers. From the freedom songs of the '60s and hits like I'll Take You There in the '70s, to funked-up collaborations with Prince and her recent albums with Wilco's Jeff Tweedy, Mavis has stayed true to her roots, kept her family close, and inspired millions along the way.
Featuring powerful live performances, rare archival footage, and conversations with friends and contemporaries including Bob Dylan, Prince, Bonnie Raitt, Levon Helm, Jeff Tweedy, Chuck D, and more, MAVIS! reveals the struggles, successes, and intimate stories of her journey. At 75, she's making the most vital music of her career, winning Grammy awards, and reaching a new generation of fans. Her message of love and equality is needed now more than ever.