Key And Peele To Make The Super Bowl Tolerable For Non-Sports Fans With Live Commentary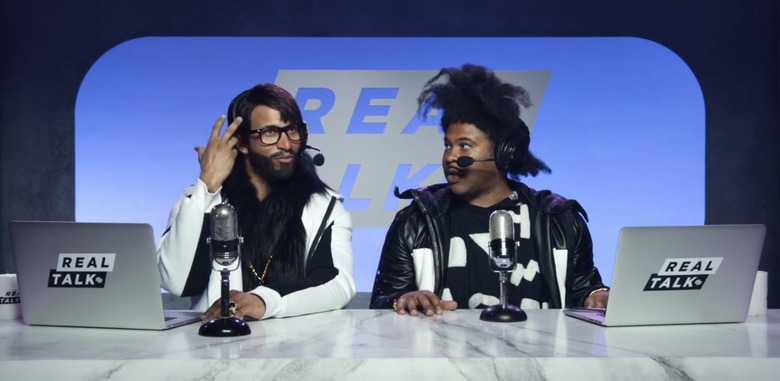 One of the biggest television events of the year is coming up this weekend with the live broadcast of Super Bowl 50. The NFL has dropped the Roman numerals from the game, because people are apparently too ignorant to know that "L" means 50 — it isn't just a typo in the graphics. But that's beside the point, because no matter what we call the game, it's going to be sweetened by the comedic stylings of Key and Peele.
Squarespace has announced that they will have Keegan-Michael Key and Jordan Peele providing live commentary for the big game as their characters Lee and Morris (seen above), but it might be a little tricky because of the rules they have to follow due to the NFL's strict copyrights regarding the Super Bowl. Find out more about the Key and Peele Super Bowl commentary below.
Here's the announcement from yesterday about the Key and Peele commentary (via The Verge):
And if you want a taste of what you can expect on game day, here's another video from the Real Talk website:
Keep in mind that while this commentary will be happening during the Super Bowl, Key and Peele will mostly have to talk around the game as opposed to about it. The duo are legally not allowed to say any of the players names or mention the game at all. So if anything, this will just be a few hours of Key and Peele riffing and doing comedy on the fly, and that sounds absolutely magical to me, especially since their fantastic sketch comedy show ended last year.
We already know that Key and Peele can work some real magic when it comes to creating comedy around football, so maybe we'll get to see some of these fictional players talked about during the live commentary:
At the very least, this is something that non-sports fans will enjoy during the Super Bowl, even if it's also essentially a giant ad for Squarespace. But surely this could also serve as a way to get some more hype around Key and Peele's forthcoming comedy feature Keanu, starring the most adorable gangster kitten you've ever seen. Plus, don't forget the duo are also preparing a stop-motion animated movie called Wendell and Wild with Henry Selick (director of Nightmare Before Christmas and Coraline).
Super Bowl 50 airs this Sunday, and we'll be posting the big TV spots for some of this year's movies as soon as they become available online, so stay tuned. Otherwise, you'll be able to check out the Key and Peele Super Bowl commentary right here.