Listen To Adam McKay And Paul Thomas Anderson Discuss 'The Big Short' For 30 Minutes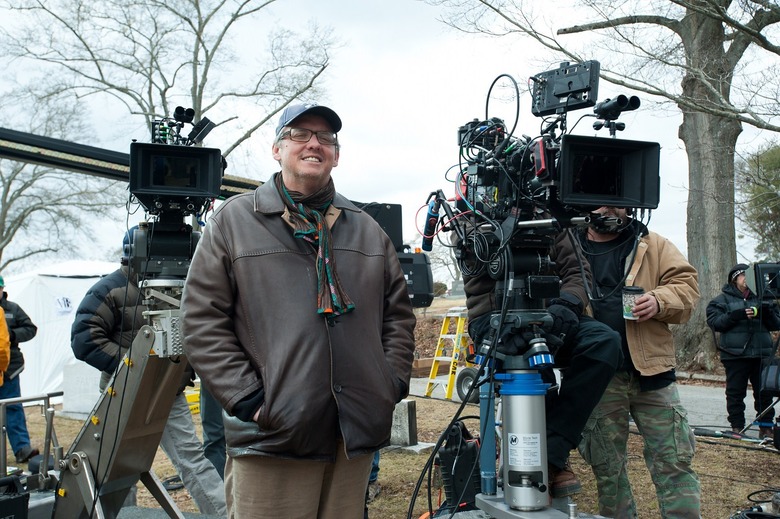 The director of Step Brothers and the producer of Hansel & Gretel: Witch Hunters is now an Oscar nominee. Adam McKay's successful adaptation of Michael Lewis' novel, The Big Short, is up for Best Director and Best Adapted Screenplay at the Academy Awards. After earning some long-overdue awards love, the director is still out there discussing the project, and you can now hear him talk about the film with Paul Thomas Anderson.
McKay and the director of Inherent Vice and There Will Be Blood got together for a highly-entertaining 30-minute chat, which took place at a recent Director's Guild of America screening of The Big Short. On The Director's Cut podcast (via The Film Stage), you can listen to the entire conversation:
As Anderson notes at the start, it's impressive just how fun of a movie McKay made, despite the tragic subject matter. Tonally, The Big Short walked many tightropes perfectly. It's an excellent, dense script, featuring some of McKay's most poignant and clever writing. The whole conversation is a great breakdown of the structure and intentions of the film.
Here are some fun quotes and tidbits from McKay and Anderson's discussion:
"With comedy, you're on this vigilant hunt for the laugh," McKay says. "All day long, on the set of a comedy, your mind is like a machine gun, always just processing everything. In the case of this movie, it was almost case-by-case. There'd be a scene that wasn't quite working, and what was great is I could say, 'Let's mess with it.' It wasn't intimidating. I would say, 'There's something wrong here. I wrote it, and I think it's a little clunky what I wrote. Let's mess with it a little bit.'"
"On Step Brothers, one day at 8:30 in the morning, [Will] Ferrell and John C. Reilly just came up to me and said: 'We're tired.' I was like, 'OK.' They were like, 'Can we not improvise today? Can we just do the as written?' I was like, 'Guys, don't worry about it. I'll throw you the lines.' Reilly looked at Ferrell and said, 'He's going to make us improvise."
Paul Thomas Anderson was the original producer on Anchorman: The Legend of Ron Burgundy. The draft Anderson read was nuts, featuring a musical number involving sharks. McKay jokes him and Ferrell ruined Anderson's potential producing career. "How much money would I have made from Anchorman, really?" Anderson asks.
Both McKay and Anderson write "vomit drafts," in which they just try everything on the page with their first drafts. In McKay's The Big Short vomit draft, Morgan Freeman played the narrator.
Here's the official synopsis for The Big Short:
When four outsiders saw what the big banks, media and government refused to, the global collapse of the economy, they had an idea: The Big Short. Their bold investment leads them into the dark underbelly of modern banking where they must question everyone and everything. Based on the true story and best-selling book by Michael Lewis (The Blind Side, Moneyball), and directed by Adam Mckay (Anchorman, Step Brothers) The Big Short stars Christian Bale, Steve Carell, Ryan Gosling and Brad Pitt.
The Big Short is now in theaters.