'American Psycho' Team Making Manson Family Movie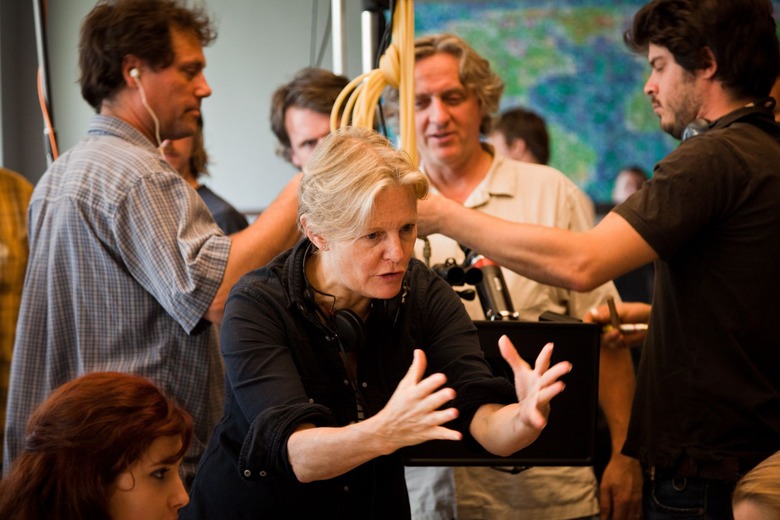 Director Mary Harron and screenwriter Guinevere Turner already know a thing or two about American psychos, as the team behind American Psycho, and they'll be putting that knowledge to good use with their next effort. The pair are reuniting for The Family, about the Manson Family murders of 1969.  
Deadline reports Harron will direct The Family from a script by Turner. The story centers on Karlene Faith, then a graduate student. While teaching in prison, she met three of the Manson girls and followed them on their personal journeys. Faith later wrote a book about one of the girls, The Long Prison Journey of Leslie van Houten: Life Beyond the Cult. That book will serve as a source material for the movie, along with Ed Sanders' 1971 novel The Family.
Van Houten was part of Charles Manson's "Family" cult. In August 1969, the Family went on a two-night killing spree that ended with the deaths of seven people including actress Sharon Tate. The perpetrators, including van Houten, Patricia Krenwinkel, Susan Atkins, Tex Watson, and Manson himself, were all convicted and sentenced to death for their crimes, but had their punishments commuted to life imprisonment in 1972 after the California Supreme overturned the death penalty.
Even half a century later, the Tate-Labianca murders remain the subject of endless fascination. NBC's ongoing drama Aquarius is a fictionalized take on the story, told from the perspective of a cop, and the recent indie Manson Family Vacation chronicled a modern-day pilgrimage to the Manson Family murder sites. But perhaps the best recent piece of Manson-related entertainment comes from the podcast You Must Remember This, which devoted an entire season to Manson and his Family.
Harron first broke through with her 1996 feature I Shot Andy Warhol, but is probably best known for American Psycho. Her other credits include The Notorious Bettie Page, The Moth Diaries, and episodes of several television shows including Oz, The L Word, Six Feet Under, Big Love, and Lifetime's Anna Nicole Smith biopic. Turner co-wrote American Psycho and The Notorious Bettie Page with Harron.
Jeremy M. Rosen and Kevin Shulman will produce The Family, while Dana Guerin, Michael Guerin, and David Hillary will serve as executive producers. The screenplay is finished and casting is already underway. Shooting is expected to begin this summer in Los Angeles. No release date has been announced.