'The Characters' Trailer: Netflix's New Sketch Comedy Series Is Eight Shows In One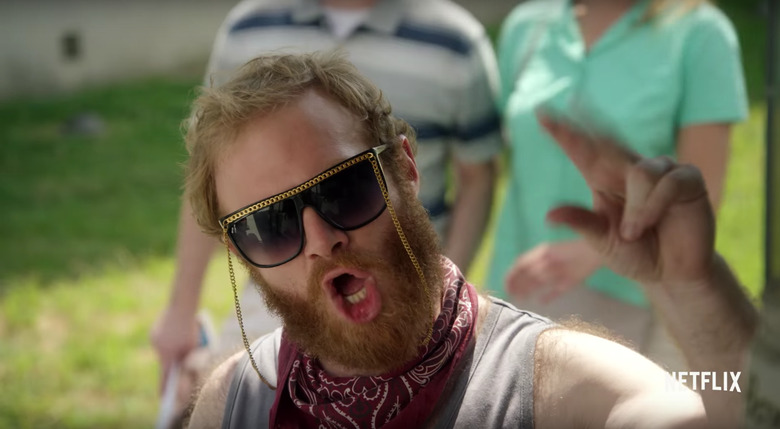 Netflix may not be a comedy channel per se, but with shows like W/ Bob & David, Master of None, and Wet Hot American Summer: First Day of Camp, not to mention standup specials by the likes of Chelsea Peretti, Nick Offerman, John Mulaney, and Mike Epps, it's fast becoming a destination for comedy fans. Now, with The Characters, they're looking to give the next generation of comedians a boost.
Each 30-minute episode of the series is written by and stars a different comedian, who can do whatever they wish with the time allotted. The slate of talents includes Paul W. Downs (Broad City), Lauren Lapkus (Orange Is the New Black), John Early (Wet Hot American Summer: First Day of Camp), Tim Robinson (Saturday Night Live), Natasha Rothwell (Saturday Night Live), Henry Zebrowski (Heroes Reborn), Kate Berlant (The Greggs), and Phil Burgers (Dr. Brown). If you haven't heard of some of these folks, that's okay — the whole point is that they aren't established stars just yet.
It's no surprise that The Characters looks wildly uneven. First episodes are tricky under even the best of circumstances, and The Characters is essentially eight first episodes from eight completely different shows. But the grab-bag vibe looks like part of the fun. Most of Netflix's offerings settle into a pleasantly predictable groove by about the second or third hour of a typical binge-watch session; The Characters promises to keep you on your toes the whole way through. And if it helps you discover some intriguing new talents, that's a win for everyone.
Netflix describes The Characters as "outlaw comedy," bragging, "We gave 8 comedians each their own episode of a series. No rules. No limits. No one else would do this. Seriously." And while that might be a slight exaggeration, it's true that Netflix has the freedom to get experimental in ways that more traditional networks don't. It's great to see Netflix is using that power to actually try something new and different.
The Characters trailer makes it difficult to tell exactly what each episode will be like, but I will say the three I'm most looking forward to are the ones by Downs, Lapkus, and Early. Downs is one of the funniest parts of the already very funny Broad City; Lapkus has been very sharp on own Netflix's Orange Is the New Black; and Early was remarkably good in the Sundance dramedy Other People.
All eight episodes of The Characters will arrive March 11 on Netflix.